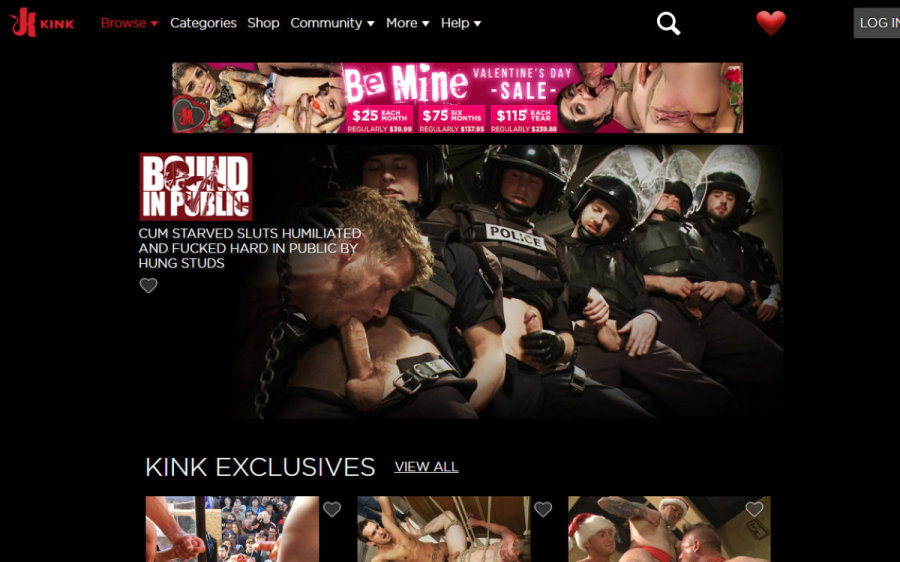 Bound in Public offers us handsome, muscular hunks in BDSM, submission, humiliation, public nudity and plenty of sex – group sex, forced sex, rough sex. The site is from the same studio that produces the powerhouse BDSM site Bound Gods. The site can't be joined as a solo entity as it now falls under the Kink Men network. But this is a good thing since Bound in Public itself no longer produces new content; the network now gives you access to five other Kink Men sites and eight video channels. There have been some changes since our last review, so let's get started and see what's happening.
Many of the performers here are very well-known porn stars including Connor Maguire, Phenix Saint, Rocco Steele, Trenton Ducati, Jessie Colter, and the list goes on and on. The men here are forced to submit in public rest rooms, bars, locker rooms - even a grocery store - and there are plenty of outdoors scenes. Within each scene, a number of performers are the primary cast involved in the action, but there are often spectators who are members of the public, some of whom also get in on the action. So these scenes bring us a nice mix of professional porn performers and amateur players.
The men and the action here are everything the site promises. The willing "victims" are into bondage, pain, submission, humiliation and exhibitionism, and they're pushed to the limits. Some of them are cocky and need to be taken down a peg, and they certainly are. The main guy is stripped, controlled and bound in front of a group of men in a public spot, and then the fun really starts. He may be blindfolded or gagged, tormented with clips, clamps and other painful gear, or he may be forced to service strangers by sucking their cocks. He may be covered with spit or hot wax before he's finally fucked hard and covered with cum. And in each video I watched, the "victim" got hard and stayed that way as each man experienced pain, humiliation and had both holes used.
One of the last releases is called "Filthy Slut Services a Cruisy Bathroom Full of Horny Dudes" and it features Phenix Saint introducing a bound and blindfolded Ethan Hunter to a public restroom where around a dozen horny men are waiting. Ethan is stripped, then forced to suck cock - any cock that pushes in front of his face. Phenix moves Ethan into one of the stalls, pushes him to his knees and force feeds him dick. Meanwhile, two cocks poke through gloryholes on either side and Ethan grabs them in his fists. Phenix fastens a clothes pin zipper on either side of his torso, then pulls them off quickly, causing Ethan to yell in pain. Finally this toilet slut is bound and suspended in a rope sling in one of the stalls, and various men take turns fucking his ass. The hour-long scene ends with a naked Ethan kneeling on the toilet floor with the men circled around him. They're jacking their cocks as one by one many, but not all of them, cum on Ethan's tight body.
Bound in Public offers 222 exclusive, DRM-free videos in MP4 format. The downloadable videos are offered in five sizes from 480x270 to 1280x720. The videos are available for mobile users and should work on iPhone, Android phones and most mobile devices. There are also streaming full scenes that play at 830x468. They're good quality nd most of them fare well in full-screen mode. Each video is 40 minutes or longer, many are over 50 minutes and some are over an hour. Finally, there are also shorter clips available in MP4 format that playe at 512x288, but while there are links to WMVs, they don't seem to be available and produce error messages.
When it comes to pics, this site also delivers. Each episode comes with over 150 photos offered in several parts. The pics are good amateur quality digital stills shown at 800x1200. Each set can be browsed as a thumbnailed gallery or downloaded for later as a zip file, and you can save pictures individually, as well, although they may display at a smaller size than what you get in the zip file. The pics show off the scenes perfectly, and they're well-chosen so that while they show the action in each scene very well, they're not repetitious. Even those who aren't pic lovers might want to check out the photo sets and the comments left by members.
When you join Bound in Public, you're actually joining the Kink Men network that gives you access to 1,586 videos from six sites. Bound Gods has 553, Men On Edge offers 295, Naked Kombat features 305, 30 Minutes of Torment has 63, Butt Machine Boys gives us 148 videos, and of course, Bound in Public with its 222 videos. However only two of the bonus sites still produce new scenes. Bound Gods updates once a week while Men on Edge releases two new scenes every month, so you're getting six fresh sessions every month.
New to the Kink Men network is bonus content in the form of eight video channels of fetish and BDSM scenes produced by others sites like Boynapped, Str8 Hell, Nasty Daddy and My Friend's Feet, along with four others, including Bonus Hole Boys which features trans men and cis men fucking. Worth noting is that while Kink itself also produces straight BDSM content, your membership only gives you access to the gay sites.
The site used to have a discussion forum, however a new law signed in April 2018 (FOSTA/SESTA) held websites like this one accountable for content posted by members where it pertains to sex work. Kink Men unfortunately decided to close down these forums.
Are there any other issues? First, sadly this site discontinued production in June 2016, although members still get those bonus site updates. Then there's the problem with those unaccessible WMV clips, the site is free of any larger issues. Of course, only two of the six Kink Men sites are sill producing new content, but those bonus channels do bring fresh content into the network as well. There's quite a bit of advertising on the site, but it's usually at the tops and bottoms of pages and easy to separate from the content.
Bound in Public is a good site with a unique theme around group BDSM sex. The action and the energy is not only fun, but titillating. I loved watching the bound men getting humiliated and tormented in public, and of course there's plenty of sucking and fucking before these men are covered with the spunk from many of the men in the scene. There are 222 episodes with pics and downloadable vids, and don't forget, the videos are usually 45 minutes to an hour long and there are masses of well-chosen pics. I'm sad about the updates ceasing, but Kink Men has five other sites bringing you a variety of BDSM and fetish content in over 1,500 scenes and six monthly updates, not to mention the eight bonus channels.
Click here to visit Bound in Public
---
Bookmark and Share
---