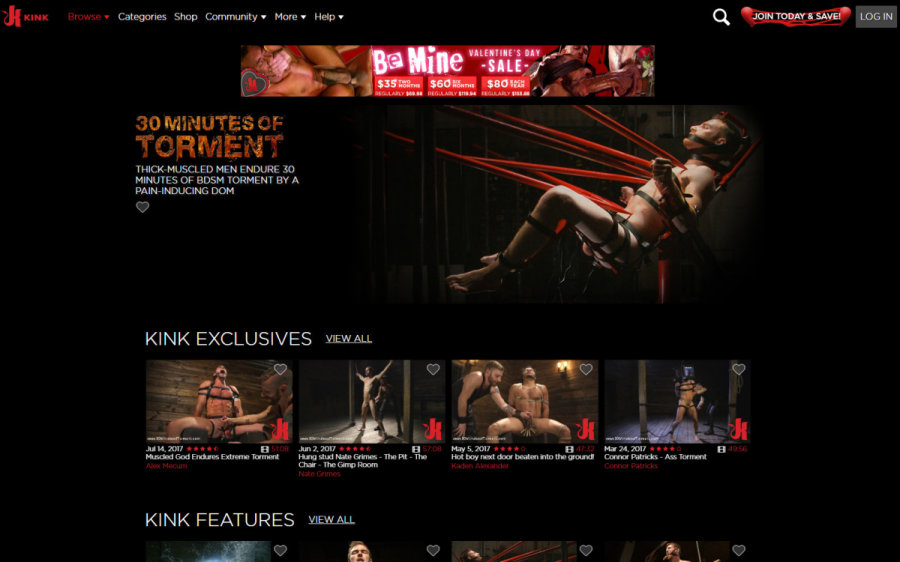 30 Minutes of Torment follows a reality show format where a willing participant is put through 30 minutes of hell in the master's fully-equipment dungeon. When the sub's half-hour experience is over, he still faces one more challenge; after all he's been through, can he shoot his load? And his master often gives him specific instructions on how he's to cum. Sounds nasty, doesn't it?
Van Darkholme is the dungeon master and creator of 30 Minutes of Torment where subs volunteer to submit to these 30-minute corporal challenges. Dom Sebastian Keys also helped out on quite a few of the scenes. Initially, there was no sex like blowjobs or fucking, but in scenes led by Sebastian there often is. However that doesn't mean the master isn't free to use his sub's cocks and asses for other things. Most of the guys are well-known performers like Alec Mecum, Brian Bonds, Jackson Fillmore, Christian Wilde, Doug Acre, Jessie Colter and Liam Harkmoore; there were only a handful of guys I haven't seen elsewhere in gay porn. The subs are in their twenties or early thirties with slender to built bodies, some smooth and others furry.
In the early scenes, the dungeon is equipped with 10 stations of torment, and each episode uses any three; with names like The Pit, The Wall, and The Water Chamber, they sound pretty intimidating. One of the scenes I watched featured straight stud James Riker in The Pit where he's blindfolded and restrained, and Van Darkholme starts off with some cock edging and flogging that grows in intensity until James is hollering. Bound in a straight jacket, James is thrown in The Padded Cell for some rough handling and beaten with a bamboo cane. The last leg of the challenge ends in The Electric Chamber where James is bound to a chair and Van Darkholme zaps his thighs and large cock with bands of electrodes; then the master shoves an electric butt plug inside his sub's hole and gives him more body shocking with the zapper.
With his 30 minute ordeal over, Van Darkholme wants James to cum with the electrodes strapped to his cock, and the master teasingly milks his sub's erection until he unloads his nuts. The session ends with Van Darkholme and Riker talking about each experience and how Riker felt about it. Another sub is challenged to cum while getting flogged and one had to shoot his load with weights hanging off his nuts, so there's good variety of action.
The site's other scenes feature a wide range of activities - punching, smacking and flogging; clothes pins, forceps and clamps; there's a dunking tank and hose in the water area, bamboo bondage and caning in another, there's a room for metal bondage and another with different wooden crosses. There's a bondage chair that frees up the master's hands so he can give painful attention to his sub's cock and balls, and The Gimp Room has a variety of chains and ball hooks hanging from the ceiling. If you can imagine it, this dungeon probably has it.
30 Minutes of Torment opened their doors at the beginning of January 2014 and they updated weekly until March 2015, then they took a break for a year, and started updating monthly for a little more than two more years. The site finally stopped producing content in July 2017. Although the site is called 30 Minutes of Torment, each scene runs almost an a hour by the time the subs shoot their wads and finish the pre and post action interviews.
The site offers 60 exclusive videos in MP4 format. These are full scenes that can be downloaded in five sizes from 480x270 to a nice-sized 1280x720. The videos are good quality with good sound, and you also have the option to download the video in clips. You can stream the videos in a player sized at 830x468. It's worth mentioning that the right size of MP4 should play on most mobiles and tablets, including iPhone, iPad and Android devices.
Each episode comes with a gallery of 15 to 50 high-quality pictures. They come in two sizes at 800x533 and 1200x800. You can view them on the site or download a zip file, but there's no slideshows available.
When you join 20 Minutes of Torment, you now get access to the entire Kink Men network. This gives you access to 1,586 videos from six sites: Bound Gods has 553, Men On Edge offers 295, Naked Kombat features 305, Butt Machine Boys gives us 148 videos, Bound in Public with its 222 videos, and of course, 30 Minutes of Torment has with its 60 videos. Currently two of these sites still produce new scenes; Bound Gods releases one every week and Men on Edge releases two new scenes a month, so that gives you six fresh sessions every month.
The network also offers eight bonus channels from other producers of fetish and BDSM content including Boynapped, Str8 Hell, Nasty Daddy and My Friend's Feet, along with four others that include Bonus Hole Boys which features trans men and cis men fucking. Also worth noting is that Kink's straight BDSM content isn't including in this network; your membership only gives you access to the gay sites.
There used to be a forum where members could discuss scenes or BDSM activities more fully, but as a result of anti-sex worker legislation enacted by the U.S. federal government in 2018, Kink shut down their discussion boards.
Are there any problems or deal breakers? Well, I already mentioned that the site no longer upates and that only two of the six Kink Men sites are still updating, but you'll still get six new scenes every month. There's quite a bit of advertising in the member area, too, but it's usually banners at the top or bottom of the page and easy to spot.
I liked 30 Minutes of Torment and the scenes feel more intimate with master and sub going on a journey together rather than putting on a show. The opening interviews help set the tone with the subs talking about their likes, dislikes and limits; Van Darkholme of Keys talk to them about the challenges ahead and he gives them a safe word. The 60 sessions themselves were intense and creative with lots of different kinds of activities, so I didn't feel they were doing the same things over and over. The Doms know what they're doing and hardcore fetish players should be pretty turned on by these realistic sessions. Even though 30 Minutes of Torment is no longer producing, it's worth checking out, and of course, there's plenty to watch in the network.
Click here to visit 30 Minutes of Torment
---
Bookmark and Share
---