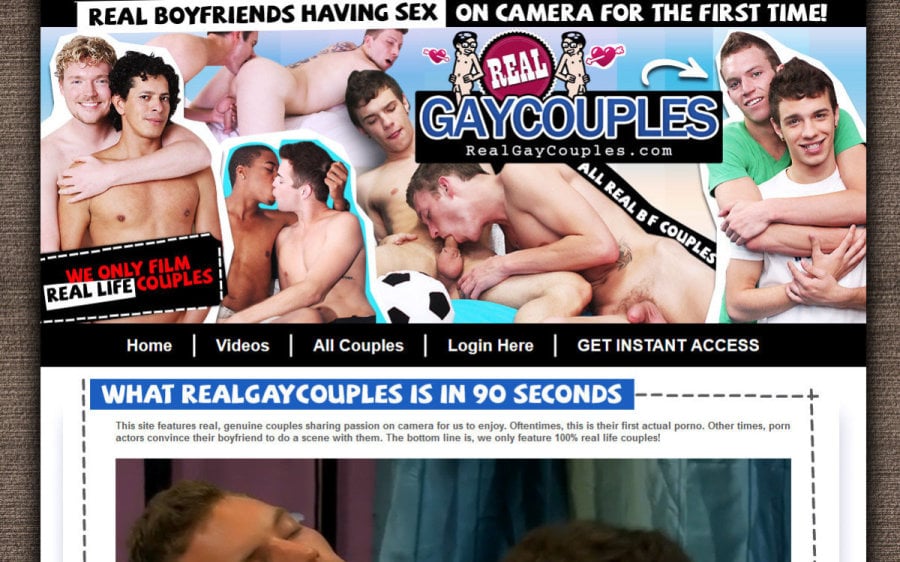 Real Gay Couples offers real-life lovers having sex on camera. There's playfulness between some of the guys, chemistry and passion, not to mention plenty of kissing that's a real turn-on to watch. While there are some amateurs here, so it's hard to know if they really are couples, at least some of the guys here are porn performers getting it on with their boyfriends. There's a scene between Chad Brock and Clay Towers, for example, who at the time were, indeed, partners in real life. The scenes are all hardcore duos, no surprise in a couples site, where the guys share blowjobs and fucking, as well as some rimming, facial cumshots and jizz eating.
The performers are a mix of twinks and hunks in their twenties and thirties. There's a lot of variety when it comes to looks; you'll find guys who are average and others who are handsome or cute. Some performers are smooth and slender, others are hairy and muscular or a bit beefy, and there are white guys, Latinos and one black cutie. You'll find guys with tattoos or facial hair, some who are groomed like pro models and others who are a bit scruffy. Like I said, a nice variety of guys.
Real Gay Couples offers 13 videos in MP4 format. These are all offered in full HD at 1920x1080 plus three smaller sizes, so there are sizes for your phone, tablet, laptop and your desktop computer. If you prefer, you can stream the videos in the same resolutions, and these play pretty smoothly as long as you're on a fast enough connection. Video quality is good amateur or better, and while the lighting isn't studio pro, it's pretty decent.
Each video comes with a set of pictures. Some sets contain good amateur quality digital stills sized at 667x1000 while others offer average to good amateur quality screencaps sized at 1000x667. Each set can be downloaded in a zip file or you can easily save just the individual pictures you want. While there's no slideshows, you can navigate from picture to picture using the arrow buttons to each side of each photo.
Full members of Real Gay Couples get unlimited access to over 1,400 bonus videos from 9 bonus sites plus a collection of bonus videos. The network adds two new videos each week from the two sites that currently update - Straight Naked Thugs and Zack Randall. The rest of the sites, which don't update, include Boyfriend Share, Jizz Addiction, Self-Sucking Boyfriends and Mr. Jones Films, as well as ToeGasms (foot fetish twinks), Skater Spank (skateboarders getting spanked) and Piss Twinks (male urination) for those who are into something a bit kinkier.
Now let's talk about issues. First off, Real Gay Couples hasn't updated since early 2013, so it's a good thing members get access to a porn network. There's a pre-checked offer on the billing page that, if left checked, will sign you up for a recurring membership to a second site when you join this one. Trial members can only view the three latest updates, and I'm not clear if that's the site's three latest updates or the network's. And there's a large animated ad at the bottom of every member area page that could be mistaken for content links. While the content at Real Gay Couples used to be exclusive, the exact same content is now used in a second site, Real Boyfriends Exposed.
Last, let's talk about tour claims. The tour offers "Join this site now and get instant access to 1000's of porn videos plus bonus sites", but that's misleading as there's just over 1,400 videos, not "1000's" of videos, and without the bonus sites, there's only 13 videos. Also the claim that all the couples are having sex on camera for the first time are iffy since some of them are porn stars.
Real Gay Couples had an interesting and sexy concept; letting us watch real-life couples doing what they do when no one is watching. There's lots of kissing, sucking, rimming and fucking, and the action is pretty hot. The 13 videos can be downloaded, streamed or watched on most mobiles, and each comes with a set of pics. While the site is small and doesn't update, full members get access to an entire gay porn network of over 1,400 videos and two weekly network updates. In fact, if you look at Real Gay Couples as a way to join a network of porn that includes some couples scenes, it's not a bad deal.
Click here to visit Real Gay Couples
---
Bookmark and Share
---