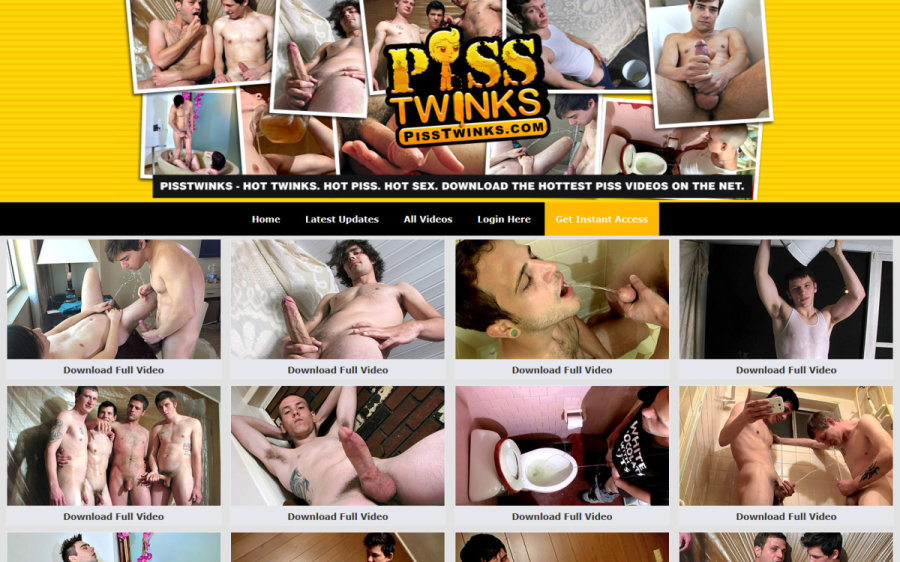 Piss Twinks is a new site focusing on male urination, watersports, hardcore gay sex, and jackoff sessions from guys from 19 to around 24. The performers are mostly smooth, although a couple have treasure trails, and most are slender to athletic. I wouldn't consider all the guys here twinks, as they're the right age but don't have the cute boyishness that most twinks have. Some of the models have tattoos, and at least one - Drac - has a sort of gangster look. Still, they're the right age, some are real cuties and all are college aged. I spotted a couple big cocks, too - always a plus.
The action here varies, but every session includes pissing. There are guys pissing in buckets, toilets and more, and at least one enterprising performer pours his own hot piss down his body. One of my favorite vids shows Matthias stroking his dick and pissing all over himself in the tub. There's a cock sucking session that also includes plenty of peeing, a fourway piss and blowjob session, a hottie named Wesley who catches hot golden urine in his mouth before doing some sucking, and there's one video that shows several guys pissing in the toilet including one who jacks off while he's there.
Piss Twinks currently offers 48 videos but has not added a new video in over two months. Luckily there's extras, but first let's talk about the videos. They're DRM-free and offered in MP4 and WMV formats, the MP4s at 1920x1080 plus 4 smaller sizes that are compatible with most mobiles, and the WMVs are sized at 768x432 plus 1 smaller size. These are good amateur quality downloadable videos, sharp and clear, and for those who'd rather just watch there are also streaming MP4s, sized at 1920x1080 plus some lower speed versions for those on slower connections. My computer stumbled a bit when playing the largest downloadable video, but there's a smaller HD version that played just fine.
Each video comes with a set of pics. Some sets are digital stills sized at 750x1000 while other sets contain screencaps shown at 1000x563, but both types of pics are good amateur quality or better, sharp and well-saturated, although some are just a touch on the dark side. While the sets aren't huge, they show off the guys, the pissing and the sex well. Each pic set can be viewed as a gallery, enjoyed as a hands-free slideshow or downloaded in a zip file, or if you prefer you can download the pics you like individually.
When it comes to extras, Piss Twinks members get access to some nice stuff. The site is part of a network offering over 1200 videos, which includes vids from this site, 7 bonus sites including another small piss site, a twink foot fetish site and almost legendary twink kink site Boynapped. All the videos are downloadable and exclusive, and the network updates with at least 7 videos every week so there's always something new for members.
The main issue here is the pre-checked offer on the join page. This will sign you up for a second site's membership when you join this site, so be sure and read the offer to decide if you want to untick it. Other minor complaints include the large group of thumbs at the bottom of every page that is actually an ad for a live cam site. And there's the lack of updates, as well.
Piss Twinks offers 48 videos featuring plenty of pissing as well as guys jacking off or sucking each others' cocks. Models pee in toilets, buckets and in each others' faces, so there's a good amount of variety, not only in sex and in models but also when it comes to pissing. The videos are big, good amateur quality and downloadable, and each one comes with a set of pics. For those who want more, members get access to 7 bonus sites including one called Filthy Piss Pigs, a twink foot site, and a hot twink kink/forced sex/bondage site. Piss Twinks seems to have stopped updating but the network adds at least 7 new videos every week.
Click here to visit Piss Twinks
---
Bookmark and Share
---