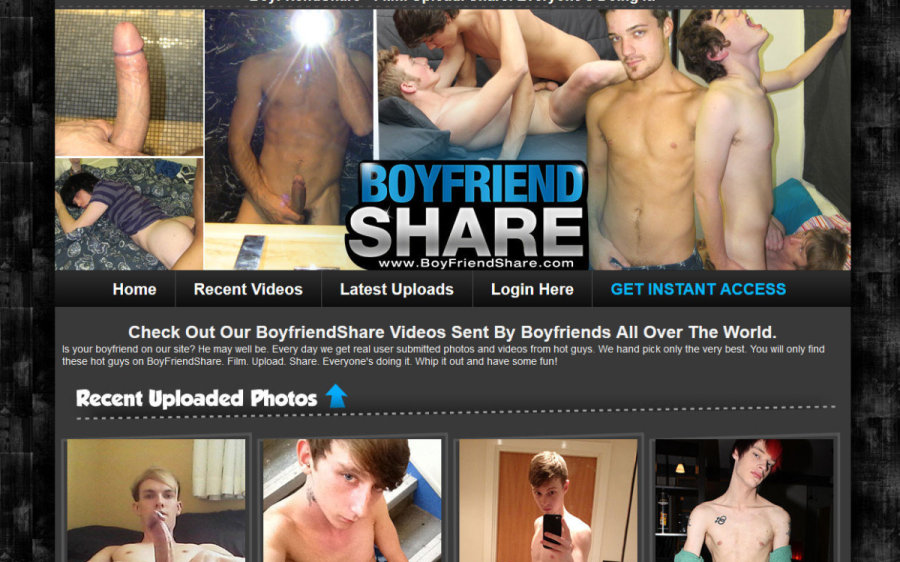 Boyfriend Share features amateur boyfriends and ex-boyfriends showing off and stroking their cocks in the privacy of their own homes. At least that's what the site claims. While they tried creating a boyfriend site, the models here aren't first-timers; they have actually appeared on other gay porn sites and while some might not be professional porn stars, these aren't their debut videos either. This is a solo site, so you can expect plenty of stripping, guys showing off their asses, stroking and cumshots in a variety of indoor settings
The majority of the performers are cuties from the UK; most are smooth and slender with uncut cocks ranging from 18 to mid-twenties. You can expect fresh-faced twink boys with smooth bodies, as well as a few lightly muscled jocks and a couple regular guy types - and one very good-looking athletic model (Denis Reed, in case you're wondering) with a lightly hairy body. Cock sizes vary from average to pretty large, and a few of the performers have some tattoos.
Boyfriend Share launched with 12 videos, and while they apparently only added one update, they have remastered the videos they have. All the videos are offered in DRM-free MP4 format, some at 1920x1080 at good amateur quality plus 3 smaller sizes including a smaller HD version and a couple versions that are good for smaller screens including mobiles. The rest of the videos are sized at 640x360 at average quality or better, and these also have a smaller version. The videos are also available as streaming MP4s in multiple qualities.
Each video comes with a set of pics. Most of these are digital stills, some sized at 667x1000 at good amateur quality and others at 750x1000 at average quality. While the difference in size is very small, the slightly wider pics lack the sharpness and clarity of the others. A couple pic sets contain screencaps of below average quality. The pic sets can be downloaded in zip files or you can download your favorites, and while there are no slideshows, you can navigate from pic to pic.
Full members of Boyfriend Share get access to an entire gay network offering 1691 videos from a total of 10 sites and 6 to 7 weekly updates, which is nice. The majority are twink sites with different themes and include sites like BoyNapped, Toegasms, and Jizz Addiction. Then there are 38 more bonus videos that do not really fit in the theme of any of the sites.
There are some issues here. Most important, as already mentioned, is that the site doesn't update. Next there's the pre-checked offer on the sign-up page that, if left checked, will sign you up for membership to an additional site. Trial members get limited access, being able to view 9 to 20 videos depending on which trial you get. And something to keep in mind is that the site is very small with only 13 videos inside the members area, although this is well supplemented by the bonus sites.
Boyfriend Share offers cute twink boys, jocks and amateurs, most with smooth bodies and uncut cocks in solo sessions where they strip, show off their asses and cocks and jerk off. There are 13 videos in the member area that can be downloaded, streamed or played on your mobile, but unfortunately the site doesn't update. To help make up for that - and it does - members get access to 12 bonus sites in the same network offering over 1600 more videos and 6 to 7 weekly updates. The way I look at it, the network is the main reason to join, and the Boyfriend Share videos are a nice extra.
Click here to visit Boyfriend Share
---
Bookmark and Share
---