Dick Rides
8 Nov 2023 Score 63 / 100 dickrides.com Mobile friendly
---
Videos

4 stars

Pictures

4 stars

Unique

4 stars

Size

2 stars
2 stars

Cost

3 stars

Updates

2 stars

Usability

2 stars

Claims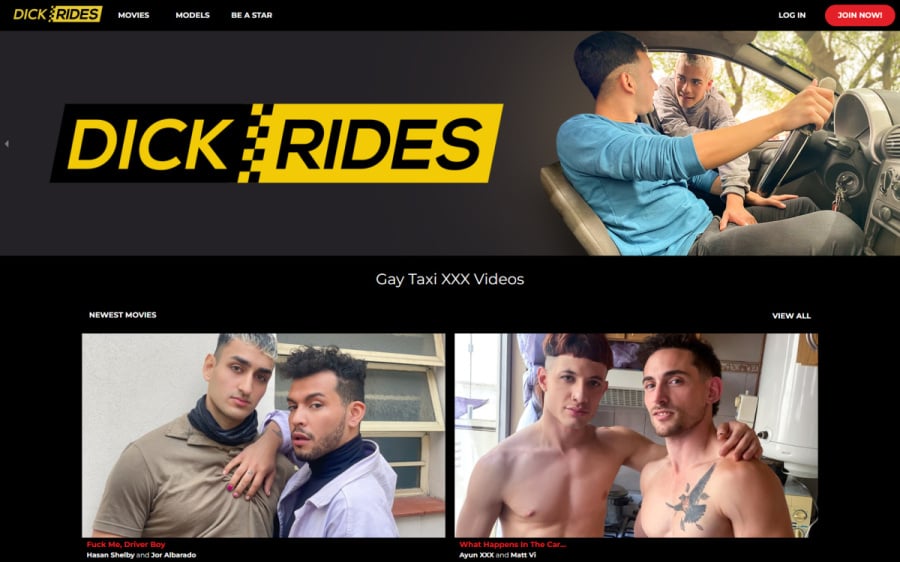 Click here to visit Dick Rides
Introduction to dickrides.com
Sexy Latin guys get it on with their ride share drivers when they can't pay the fare or sometimes they're just horny for cock. New site with exclusive car sex videos (and some public or indoor sex) with a new scene added every other week. 23 downloadable and streaming videos available with picture sets and some bonus content.
Video info
Videos offered for download and streaming
23 exclusive videos in MP4 format. Downloads available at 1920x1080 with 4 smaller sizes at good quality plus a 4K version at 3820x2160. Streaming, mobile compatible videos also available.
Picture info
23 picture sets. Pics are good quality and sized at 1620x1080. Zip files available, no slideshows offered. Pics can be saved individually. Around 10 to 12 pictures per set.
Bonus content
A couple channels of content; full network access requires a paod upgrade or the yearly Say Uncle membership.
Site issues
Pre-selected offer on top of billing page; to opt out, click "Special offer" and change it to "No thanks". Full-page ad when logging in. Some tour claims pertain to the network, and only year members get access to those claimed extras, which don't apply to monthly, quarterly or half-year memberships.
Membership cost of Dick Rides
There are pre-checked options on signup page. If left checked, you will automatically be subscribed to another site.
Monthly: $29.95 (recurring every 30 days)
Quarterly: $69.96 (recurring every 90 days)
Six Months: $99.95 (recurring every 180 days)
Dick Rides Review
Dick Rides is a fairly new sites from the producers of Family Dick and Missionary Boys, and it explores what happens between horny passengers and their sexy ride share drivers. When these studs can't pay for their ride for one reason or another, the driver is happy to collect his fare in trade. The sex starts with blowjobs in the front seat and usually moves outside the car for more sucking and ass fucking. Car sex is a popular theme in gay porn, but this is the first site I know of that explores this titillating theme completely, so I'm excited to get inside and watch some videos.
The guys appearing on Dick Rides are Latin studs. Some of these performers appear on Latin Leche, another site produced by this company, and since they film in Argentina, I'm assuming DickRides also films there. The guys are mostly in their twenties, but a few are a little older. They have athletic to gym-fit bodies and are both smooth or hairy, and some are inked (a couple heavily) but others aren't. They're also a mix of clean shaven and bearded. Latin men tend to be uncut, so you can expect lots of foreskin here and plenty of big dicks, too. Also, the dialogue is in Spanish, but there are English subtitles. These aren't well-known faces in gay porn, but many of the men do repeat scenes and also appear on Latin Leche.
In "Wrong Ride, Right Driver", Edipo jumps in the rideshare car that pulls up beside him. It's not until Leo has been driving for a couple of miles that they discover Edipo is in the wrong car. The driver wants to dump him at the side of the road, but Edipo wants the driver to take him back where the ride started. Leo says that he'll lose money and wants to be compensated in some way. "Show me your cock", he says. The passenger pulls out his very big, fat cock, and the driver reaches back and strokes him while he continues to drive. Eventually he suggests they find a quiet spot to do something. That's code for sucking the driver's cock. After some head in the front seat of the car, the driver wants to fuck his passenger, so they fuck behind a tree in an alley.
In another video, the passenger's credit card is declined, and he has to come up with another way to pay. Another young man is stranded with a dead phone and he left his bag on the bus, the kind ride share driver says he'll drive him where he needs to go and finds a horny way his passenger can thank him. Another video has the ride share driver going fan crazy on a rapper he recognizes, he suggests the singer join him in the front seat so they can jack off together. Still another driver watches a couple of guys making out in the back seat and he finally suggests he pulls over so he can get in on the fun.
DickRides has 23 exclusive videos available in MP4 format. You can download them in six sizes from 640x360 to 1920x1080 plus a 4K version at 3820x2160, and the videos are good quality. The initial action happens in the car, and it's filmed well, as is the out-of-the-car sex. The videos are also available to stream in an adaptive player that resizes the videos to fit your device. Only the five smaller sizes are available to stream - the 4K version can only be downloaded. There's a full-screen option and the largest sizes fare best. The site and videos are mobile compatible, so you won't have any problem playing them on a variety of devices.
Each episode has a picture gallery featuring eight to 12 good quality images that preview the guys and the action. They display at 1620x1080, and you can save them one at a time or download whole sets in zip files. The picture viewer has forward and back controls, but there's no slideshow feature.
Now let's talk about updates. The site uploaded it's first scene in November of 2022, and since then they have been adding a new video every other Wednesday, bringing the current total to 23 videos. The newest scene was uploaded on a Sunday, four days ahead of schedule, but otherwise the updates have been consistent. 
When you join DickRides via the monthly, quarterly, or six-month option, you'll also get access to two bonus channels called Say Uncle Labs with 48 videos plus Say Uncle Extras with one scene.
The tour's join page says that your membership "Includes 46+ SayUncle Series", but this is only the case if you purchase a Say Uncle network membership. And actually there are now 60 series in the network which includes 26 exclusive series and 34 bonus collections from other gay porn producers like jock sex site Randy Blue, socks and nylons fetish site Gentlemen's Closet, twink sites Blake Mason and Boyfun, and so many others, but it's a year membership, so it also costs a lot more. Or you could join Say Uncle directly for a month - it's more expensive than the DickRides membership, but it's a lot less pricy than joining for a year.
There are a few dowsides to talk about. There's a pre-selected offer on the billing page, but you can easily opt out if you're not interested. Once you log in you'll pass through a full-page ad, but accessing the members area is clear with a large link at the top of the page. There's a lot of advertising here including a row of third-party site thumbnails every sixth row on the Videos page. As well, if you joined Dick Rides on its own, you'll still see all of the Say Uncle previews of content you don't get access to, so you can watch previews, but you'll need to pay to upgrade to enjoy full scenes. If you're ever lost and just want to concentrate on the content available to you, you can select "My Content" on the sidebar; you can also select Dick Rides under Browse, then Series. The "new movies daily" claim pertains to the network and not this site in particular.
Finally, on the Dick Rides join page you'll see a Say Uncle option, but it's a yearly membership at a costly $349.00. However, if you want to upgrade after you've joined Dick Rides, you'll have to option to go monthly instead of popping for a whole year of the network.
I enjoyed Dick Rides. I don't know of another gay porn site that focuses solely on car sex with some fucking in public places and some indoor sex, so this theme is hot. Add to it that the studs are Latinos with juicy uncut cocks, and you have a winning combination in my book. The situations are realistic and titillating and presented well. The site has 23 exclusive videos and adds another one every other Wednesday. There are a couple of bonus channels with a few videos, but the big draw here is the upgrade to the Say Uncle network with a total of 60 series and 3,116 videos with a new scene added every day.
Things we liked
Exclusive content
Hot car sex videos
Sexy uncut Latin guys
Videos are offered for download
SIte and videos are mobile compatible
Good quality content
Things we disliked
Network access requires paid upgrade
Update claims regard yearly membership
Heaps of advertising
Only 2 updates per month