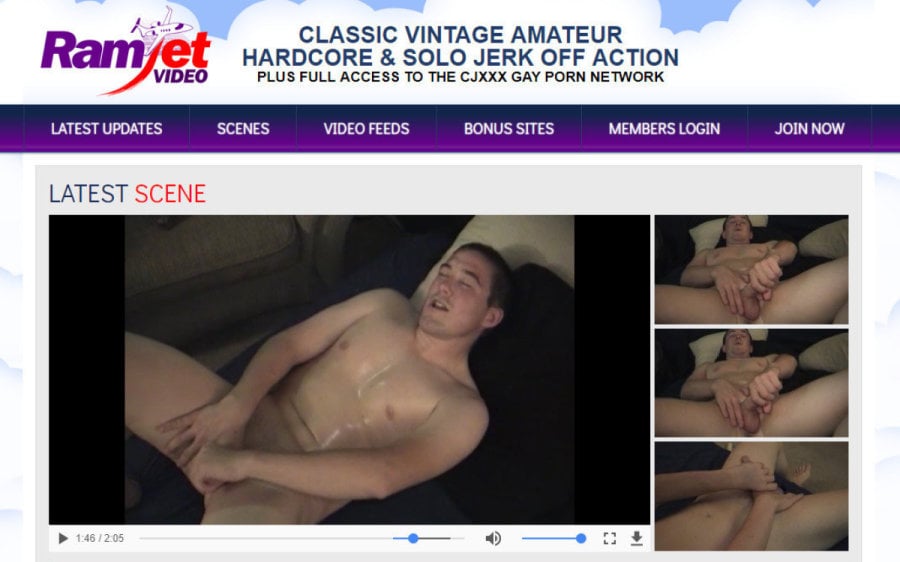 Ram Jet Video focuses on horny, college-age amateurs plus a couple guys in their late twenties or maybe early thirties. There's a nice variety when it comes to types; you'll find a mix of white and Latin guys, some with smooth bodies and others with hairy chests and unshaven pubes. These are average guys, the kind you might find in line at the store or walking down the street, and while some are tattooed, others are not; a good number are clean-shaven, but some have goatees or a little facial hair. And, as you may expect, you'll find all sorts of physiques - average, ripped and somewhat muscular bodies - as well as cock sizes that vary from average to impressively large.

The action is a mix of solos and duos. The duos have plenty of cock sucking and mutual JO action, and in some vids the guys fuck before shooting their cum loads. A couple guys I watched did some sixty-nining, and there's some dildo play as well. The solos feature guys stripping out of their clothes, stroking their cocks and shooting their loads, and at least a couple finger their asses; one I watched was having a lot of fun shoving anal beads up his butt. At a guess, I'd say that the videos take place in motel rooms, but some could be apartment bedrooms.

Ram Jet Video was a new site when we reviewed it a little over a year ago, and it grew from 24 to 62 videos, but it stopped updating in December 2016. The videos are offered in MP4 format, and they can be downloaded in two sizes at 1280x960 and 640x360. These videos were mostly likely shot at 640x480 originally, so enlarging them to 1280x960 didn't do the quality any favors; they are watchable, but they lack clarity and sharpness. I watched them at half size, and they looked better. The smaller videos, which are good for mobiles, are actually 480x360 with black bars on the sides to bring them to that 640x360 screen size. The streaming versions of the videos are sized at 606x454, and they look pretty good at this size, but most don't hold up too well when enlarged to full screen.

The site also grew to 62 picture galleries since our last review. These are below-average quality screencaps that display at 1280x960, and they would probably have looked better sized at 640x480. There's no hands-free slideshow on the picture viewer, but there are forward and back controls to ease navigation. You can save the pics individually, but you have to change the file names as they all have the same name, so it's far easier to download the zip files.

Ram Jet members also get access to 31 sites from the same network covering a wide variety of niches. There are several amateur sites featuring real amateurs including Auntie Bob's Amateurs, Defiant Boyz and Workin Men XXX. There are also sites focusing on twinks, Latinos, barebacking, Asian guys, daddies, and there are some kink and fetish sites, too. While some of the sites update, many of them don't. There are also 66 assorted gay feeds in just about every gay porn niche, plus there are the feed versions of some well-known sites including Hot Desert Knights, Falcon, Jake Cruise and Paul Morris Treasure Island Media. There's also a bonus theater packed with over 1,000 videos. All in all, there's enough porn here to keep members very busy for a month or two.

Now let's talk about downsides. The biggest issue is that the site has stopped updating; another is that the non-recurring month membership costs a whopping $20 more than the recurring monthly version. It's easy enough to cancel a recurring membership, so I'm not sure it's really beneficial to grab the more expensive non-recurring option. The rest of the downsides aren't so much issues as things that could be improved. I'd like to see the larger downloadable videos sized at 640x480 or maybe 840x630 max; yes, the vids would be smaller, but they'd be sharper and clearer, and those who wanted to could still go full screen. I'd like to see the streaming videos sized at 640x480 as well. It would be better for mobiles if the black bars were removed from the smaller videos, as well. Last, I'd like to learn more about the models.

Ram Jet Video delivers amateur guys getting off, either by themselves or with a buddy. The site offers 62 videos to download, stream and watch on your mobiles, but disappointingly updates have stopped. To keep members busy, they get access to a large gay porn network, and some of those sites do still update, offering tons of downloadable videos in a wide variety of gay porn niches. If you're looking for HD video, this may not be the site for you, but if you're looking for real college-aged amateur guys - no porn stars or models - Ram Jet Video is worth a visit.
Click here to visit Ram Jet Video
---
Bookmark and Share
---