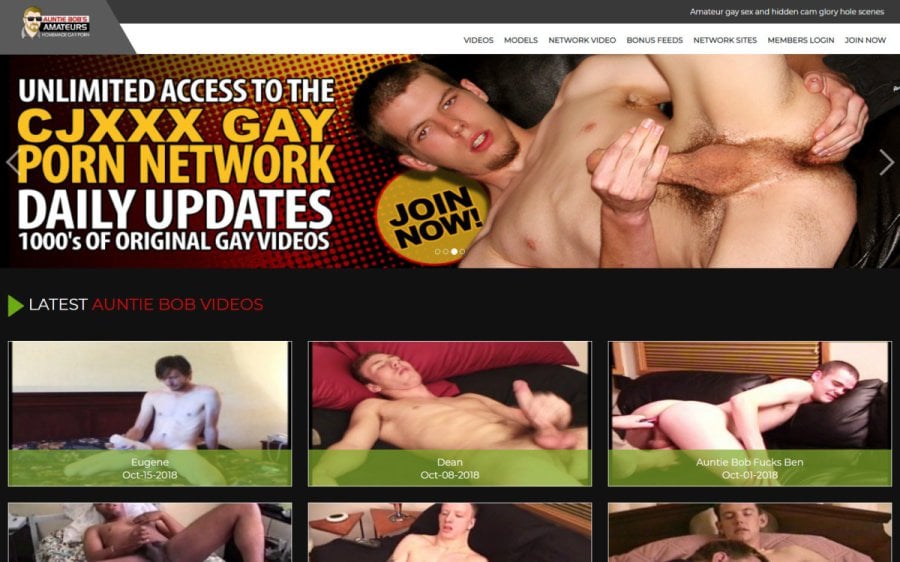 Auntie Bob's Amateurs is a site based on a long-running series of DVDs of the same name. The guys are a mix of average guys in their twenties and thirties; some have hairy bodies and others are smooth, some have facial hair while other guys are clean shaven, and a number have natural public hair. You'll also find that some of the performers here have tattoos. A lot of the guys have average body types, although I did find some hunky men, slender types, and also some guys with a few extra pounds around their middles. And there's a few 18-year-old twinky types as well. It's like getting a site full of the mix of guys you'd find walking down the street or at the store.
The action here is a mix of solo guys, guys stroking their cocks together, amateurs getting serviced by Auntie Bob (yes, there IS an Auntie Bob, and he loves amateur cock) and other guys sucking and fucking (sometimes with Auntie Bob). You'll find straight guys jerking off in front of each other or maybe exchanging handjobs or, if they're feeling adventurous and horny enough, sucking each other's dicks. There are dudes who have never been naked in front of a camera before, but there are also guys who come back for a second or third run - after all, you can't beat getting serviced by a dedicated cock sucker when you want to get off. And there are some gloryhole sessions, too.
Some of the guys here get naked and might get themselves hard, and while some are happy to masturbate to a creamy conclusion, others would like a helping hand or more. And that's when Auntie Bob takes over. He puts his video camera on a tripod, then strokes or goes down on those amateurs dicks. It's obviously something he loves to do, and he's been doing it for years - I guess practice counts.
Auntie Bob's Amateurs currently offers 231 DRM-free videos that are available in MP4 format to download, stream and watch on your mobiles. The downloadable videos are sized at 720x580 and 540x360 and both sizes should play on most phones and tablets. There are also streaming videos sized at about 680x452. Quality is amateur to good amateur, which is to be expected, although don't assume these videos to hold up well when enlarged to full screen. While the camera work is amateur, expect some sudden zooms or periodic camera shaking; again, that's to be expected as these are amateur productions. One last thing is that the download links say MP4 and HD, but both sizes are MP4s and neither are actually HD.
Something you may notice is that some of the videos are obviously not that recent - I'm talking maybe 2000 or 2003. But honestly, we're talking about naked guys, and cocks haven't changed much over the years. Also an advantage about some of the vids being a bit older is that there's more guys with unshaven pubes, which can be a real plus if you like your guys natural.
The site also offers 32 picture sets. These are decent quality screencaps sized at 720x480 that show off the action well. The pics can be downloaded either individually or you can save full sets in zip files. While there are no slideshows offered, you can navigate easily from pic to pic using the right and left arrow keys. One thing to be aware of is that all the zip files have the same name - images.zip - so if you want to save more than one set, you'll want to rename each set so you won't overwrite zip files already saved.
Now let's talk about extras. Members get access to 31 gay bonus sites (nine more sites than on our last visit) including ones focused on twinks, barebacking, straight guys, rough daddies, Brazilian hunks, twink feet, and a variety of Asian sites. The network offers over 7,000 videos, and while not all the bonus sites update, there are over twenty updates listed each week, so members will have a lot of variety and plenty of new content to keep them busy. There's also a video collection with over 1,200 vids as well as 62 video feeds in all sorts of gay porn categories, and some are the feed versions of well-known sites including Falcon, Hot Desert Knights, and Jake Cruise.
Now let's talk about updates. There's good news because Auntie Bob recently came across a cache of his unpublished videos, so the site has started updating again. So far, updates are added once a week on Mondays, and we've been told there's enough videos to continue updates for over a year.
There are some issues worth talking about. The non-recurring month membership costs $20 more than the recurring version; you can always get a recurring membership and cancel, saving yourself $20. When joining the site, you are automatically added to the email list, and there's no way to opt out while joining. There's no info about Auntie Bob or how he started the site, and the scene descriptions are brief and pretty much your average porn descriptions; I'd have rather heard from Auntie Bob about the guys and the action. And last, at the bottom of some pages are rows of thumbs of hot guys, but these are actually ads leading to a third-party live cam site.
Auntie Bob's Amateurs delivers horny amateurs from jocks and twinks to hunks and average guys next door. There are guys jerking off, jerking each other off, getting sucked, and even fucking Auntie Bob. You might be familiar with this series of videos from the DVDs, but if you're not, these remind me a bit of the vids from The Body Shoppe, which I've always liked. There are 231 videos to download, stream and watch on your mobiles, and the site once again has started updating once a week. And there are 31 bonus sites offering over 7,000 videos with frequent updates and a collection of video feeds as well. If you love real amateur guys caught on video by an amateur photographer who loves cock, you'll like what you find at Auntie Bob's Amateurs, and there are more real amateur videos in the network as well.
Click here to visit Auntie Bob's Amateurs
---
Bookmark and Share
---