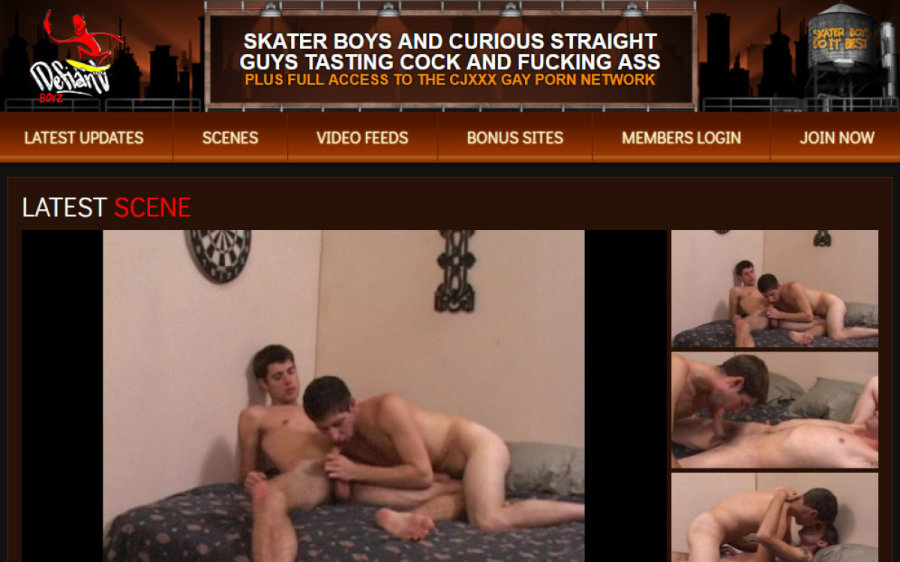 Defiant Boyz brings us skater boys, twinks and rough straight boys filmed by a studio called Defiant Productions. The site offers plenty of scenes and extras from their DVDs featuring lots of skater boy cocks, interviews and juicy jack-off scenes, as well as some dick sucking and fucking. We haven't visited the site for a couple of years, and there's been a redesign since then, so let's head back and see what's new.
The models here are between 18 and around 25, and they're obviously real amateurs who haven't been naked in front of a camera before. Most of them are slender with some tattoos and are a little awkward at first in front of the camera. A lot of the guys look like the skateboarders who skate in the lot by my house - scruffy, slender and a little on the rough side, which makes them very hot. Many are straight, and what they do in the videos depends on their comfort levels. Some videos have guys who jack off together while watching straight porn, and who end up being willing to try oral sex, either giving, receiving or both. Some go even further than that.
A handsome lean guy named Elliot flops down on the couch and while unzipping his pants says "Why don't you pull out your cock and join me, I don't want to jack off by myself". Brennan Stark is a beefy guy who jacks off and cums all over his own face. Adam and Dominic are a couple of straight guys lying on a bed watching porn. They're clothed, but their hands eventually slip inside their pants and Dominic eventually peels off his shirt, then reaches for his buddy's zipper and swallows his cock. The boys end up fucking each other on the bed, then they lie back and stroke and unload their nuts together. Some of the duos are masturbation sessions only, some only feature oral, but others go all the way with sucking and fucking.
Defiant Boyz offers 1,299 exclusive, DRM free videos in MP4 format at amateur quality or a little better. The vids seem to come in two downloadable sizes – 640x480 and 480x360 – but during our last visit some were only offered in the smaller size, so while 640x480 isn't huge, it's still nice to have this slightly larger size available. The videos can be played on most mobile devices and streaming is also available. While you can enlarge the videos to full-screen, I wouldn't recommend it as the videos don't fare too well.
When we were here two years ago, Defiant Boyz only had 64 picture sets, but now there are 920 galleries of screencaps; while there's not one for every scene, about two-thirds of the episodes have now have pic sets. These are average quality screencaps; the ones I viewed were sized just over or under 640x480. You can download a zip file for each set or save them one at time, if you prefer. The picture viewer has forward and back controls to ease navigation, but there's no hands-free slideshow feature. There are mostly between 26 and 32 pictures per set.
Defiant Boyz is part of a good-sized gay porn network. There are 31 bonus sites in niches including twinks, Asian guys, Latinos, straight guys, amateurs, cumplay, and there are a couple of sites featuring hairy men and daddies. And for those who want more porn, there's 63 gay feeds, some of which are the feed versions of some very popular sites including Falcon, Hot Dessert Knights, Jake Cruise, and Paul Morris' Treasure Island Media, and there's a bonus theater with another 1,000+ videos. So you can see there's plenty here to keep you busy.
Defiant Boyz also has some downsides. While the studio shot video for a number of years, they're no longer producing, so the site no longer adds new content. While dates indicate the site updates daily, it is actually recycling existing content to the front of the line. The site used to have some interviews and cumshot compilations, and they may still have these, but it's not organized in a way that I could easily find either. Still, there are over 1,200 videos here for you to enjoy. Vids are small and quality isn't the best, but on the other hand, these are genuine amateur videos and some were shot years ago. I'd like to see more about the models – short bios or profiles would be nice – but many of these guys didn't hang around Pornland long, if at all.
This network addressed many of our previous concerns, but there is one that lingers. Saving pictures individually is a chore because the filename is missing a period before the file extension, so if you don't add it when downloading it, you won't be able to open the picture. As well, each picture's filename is identical so you'll have to add a sequence number or rename each photo; otherwise you'll continually overwrite the previous file. For these reasons, it's best to download the zip files where such problems don't exist.
Defiant Boyz has a lot going for it. The site offers amateur skater boys and straight guys in nearly 1,300 videos that can't be seen on other sites. The videos can be downloaded or streamed and are compatible with most mobiles. While the video quality could be better, this site delivers the kind of guys I can't find on many other sites. And there are all those bonus sites and feeds, too. While I wish the site still added new content, what I liked best about Defiant Boyz is the guys; they're regular guys - no porn stars or pro models - and there are plenty of smooth slender twinks, rough straight guys and skaters.
Click here to visit Defiant Boyz
---
Bookmark and Share
---