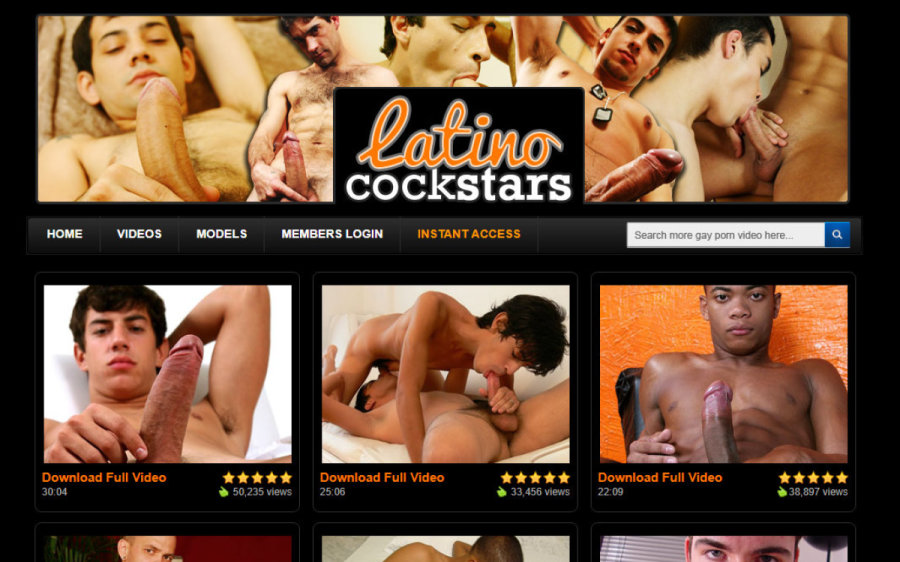 Latino CockStars offers horny Latin guys including cute twinks, built jocks and hunks and regular average dudes. Many of the models here appear to be amateurs, although some may well have gone on to do more porn after making these videos, and there are some porn regulars, as well. You'll find some performers with tattoos, a few black studs with really big dicks, and there are a couple of older hunks and white guys showing up in the videos, as well. Some of the men here are handsome, some are cute, and some are regular guys, which makes for a nice mix.
The newer videos are all hardcore action, so you can expect guys taking cocks up the ass, plenty of blowjobs, dick riding, 69ing, some outdoor sessions and others where the performers get it on on the floor. There are guys flip-flop fucking, twink sex on the couch, as well as two really horny athletic guys boning at the gym. There are asses getting fingered, rimjobs, and I watched performers splattering cum on their bellies and on their scene-partners, and there are some facial cumshots. The older videos are a mix of solo stroking on the couch and the bed, and there are also guys fucking in duos and small groups.
Latino CockStars offers 95 DRM-free videos offered in MP4 format. The downloadable versions are sized at 640x480 or 640x360 plus a smaller resolution version, and both are compatible with most mobiles. Each movie also comes with two stream sizes in an embedded player at 640x480 which will go to full screen and comes with a lower resolution version, as well. Movies are amateur to good amateur quality, so while they are nowhere near HD or studio quality, viewed at their original size, they do pretty well. The sound is fine and the streaming is smooth.
Each video comes with a picture set. The newer pics are good amateur quality (or better) digital stills sized at 667x1000 or good amateur quality screencaps sized at 640x480. Some of the older pics are poor quality screencaps sized at 480x360 or 720x420 or average quality at 720x480. You can download individual pics or save entire sets in zip files, and while there are no slideshows, you can easily navigate from picture to picture using the arrows at the left and right of each photo.
Latino CockStars members also get access to 62 bonus sites and three bonus video collections offering 9,012 bonus videos and very frequent updates; there were 38 mew videos added last month. You'll find mostly British guys in 1,279 and two weekly updates inside Blake Mason, twinks in action in 471 scenes and one to two monthly updates at Lollipop Twinks. Teach Twinks offers a mix of twinks and college age guys, and all sorts of men fuck and get kinky inside Anal Discipline. The network offers barebacking, more Latin guys, big cocks, black studs, amateurs, group sex and the list goes on. There's definitely enough to keep members busy.
Lets talk about the site's updates. There have been 43 episodes added since our last visit 33 months ago, and the site is currently adding a video one a month, every other month or every third month. For example, the most recent update was added on Dec 11 2018 (it's currently December 28) while the previous update was added on October 30. But there was four month bread from updates between December 2017 and April 2018, and there were a few other update breaks before that.
Are there any other downsides? There's a pre-checked offer on the billing page signing you up for a second site membership when you join Latino CockStars; luckily it's easy to uncheck if you're not interested. There's a pop-up on the tour, but it's easy to close. Trial members get only limited access to the site and the network; the site says they are limited to view the best 12 scenes in the network, and how they decide the best isn't explained.
There are also some usability issues. There's a large ad on the top of all the member pages, although there's a way to close it, and there are also two rows of animated thumbs at the bottom of all the pages that are actually an ad for a live cam site. The oldest videos are often lower in quality than the rest; they also lack tags and some scenes also lack descriptions.While there is a model index for this site, it only offers profiles for 10 guys, and each has only asingle video that was added to the site in 2016. None of the more recently added models or the guys added pre-2016 are listed.
While the performers at Latino CockStars aren't stars - in fact, many appear to be amateurs - you'll find some hard, juicy Latin cock to savor. There are 95 videos featuring horny Latinos in action, and the vids can be downloaded, streamed and watched on your mobiles. Unfortunately updates are infrequent, but the bonus sites are the main reason for signing up to this site, as full members get access to over 9,000 videos, another Latin site and over 30 updates per month. And when you put everything together, you not only get some hot Latins in action but also loads of attractive extras give you plenty of porn for your buck.
Click here to visit Latino Cock Stars
---
Bookmark and Share
---