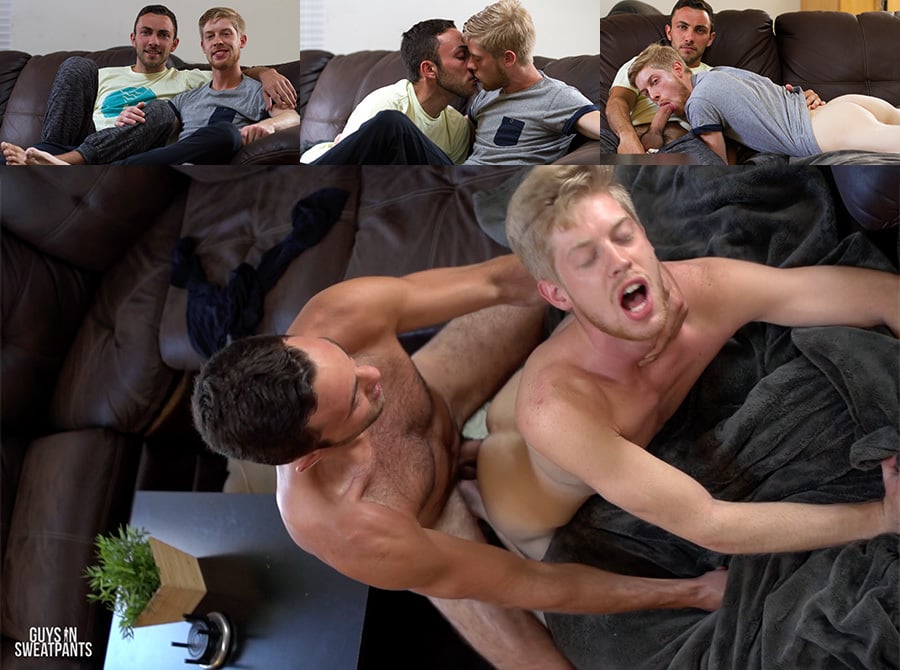 If you don't remember Riley Gray, he's the blond virgin from Texas who asked Austin Wilde to give him his first fuck, not just on film, but ever, and he wanted it to happen on Guys in Sweatpants. Well, Riley's back for more in his second scene with Justin Dodge, who only last week fucked an Aussie guy on a weekend camping trip in the mountains.
Before getting down to his second fuck, Riley talked with Austin Wilde about his first experience. "I liked being choked," the blond says. "So I gathered," replied Austin. (Justin is sitting on the couch beside Riley and he's taking notes.) Austin asked Riley what else he liked: "The first time I got my ass rimmed was pretty good."
I'm envious of Riley who is discovering all the things that turn him on. It takes me back to all of my first times, which somehow managed to stand the test of time and remain blazed in my memories. Justin gives Riley some more hole eating experience before he shoves his big thick cock inside and he chokes him while fucking him. Riley's pink hole takes a good pounding, but he loves it and even asks for it harder a couple of times.
See more at Guys In Sweatpants