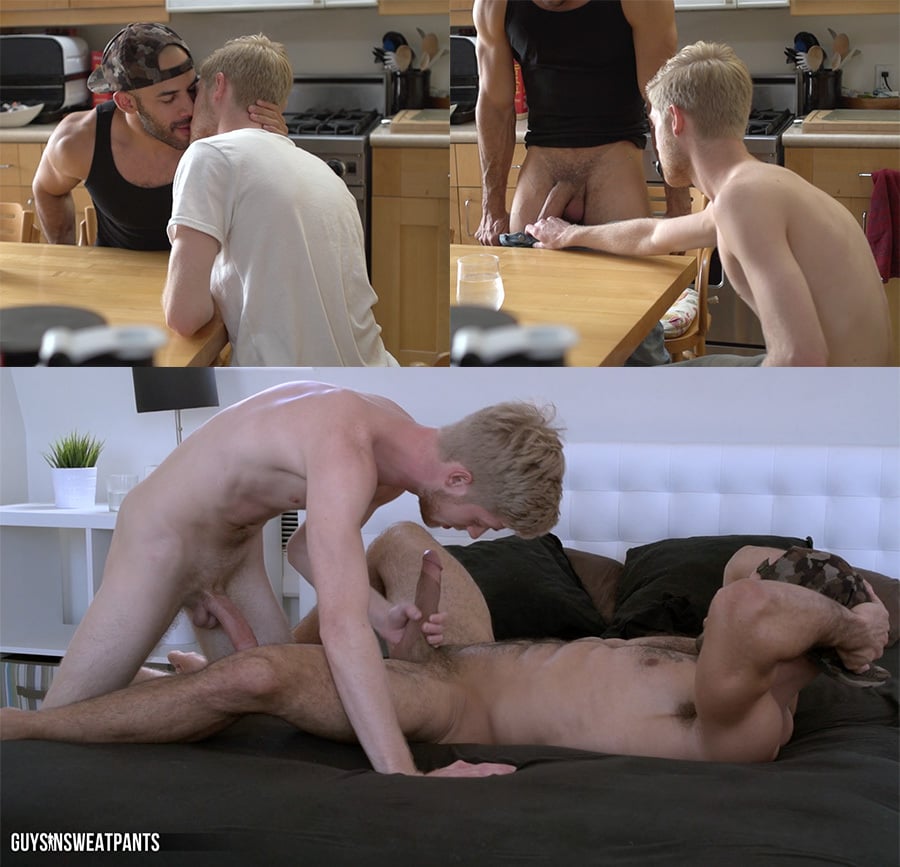 Boy, things sure have changed. My first time was on the couch of the town postmaster; he grabbed the hard-on in my shorts while I was looking at a pile of nudie magazines he had brought out -- he had no idea how that Playgirl managed to get in among the titty mags. Sure. But when blond Texan Riley Gray wanted to have his first time, he emailed Austin Wilde and asked if he'd fuck him on Guys in Sweatpants. And Wilde is only too happy to pop Riley's cherry, although he feigns not being thrilled about playing second fiddle to Riley's larger cock.
Austin and Riley are sitting in the kitchen talking about the fact that Riley has not only never had sex before, but he's never touched another guy's cock -- he's never even been kissed. Austin gets excited in a hurry. He stands and shows Riley his hard-on pushing in his jeans. "Do you want to see it?" he asks. Of course Riley does, so Austin unzips and slides his jeans part way down exposing almost all of his thick meat, his cock head is still tucks underneath the waistband. Then he encourages Riley to touch it.
They head for the bedroom and Austin knows how to keep this boy teased up: He strips Riley and lays him on the bed, then, still in his jeans and wife beater, Austin climbs on top and kisses Riley and he wraps his fist around the lad's erection. Austin gets naked and lies back on the bed and lets Riley have his first taste of cock. It's a horny scene and not only does Riley get his ass fucked, but Austin cums twice. Who wouldn't?
See more at Guys In Sweatpants