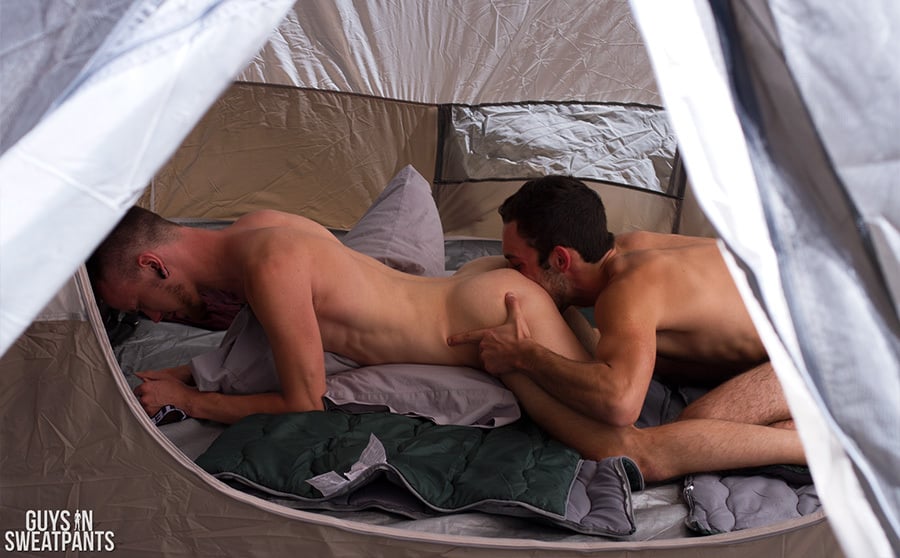 Camping trips are all about experiencing new things like getting your first outdoor blowjob or learning how to make s'mores, which apparently aren't a thing in Australia as Blake Lupo tells Guys in Sweatpants. But on this camping trip, Blake not only has his first outdoor sex, but he also teaches Justin Dodge how to suck an uncut cock properly.
The guys are hiking up the mountain heading for their campsite, and they stop so Justin can give Blake some head. Blake leans against a boulder, his long uncut cock jutting out in front of him, and with his foreskin pulled back, Blake's bubble-gum pink dick head glistens in the sun. Justin sucks a bit, but then starts jacking Blake's cock hard like he's shaking a can of whipped cream. Blake finally has to stop him and school him on how to service an uncut cock. Justin obviously doesn't know that foreskin protects a man's cap and prevents it from turning into a piece of leather. Justin finally gets the hang of it and Blake enjoys his first outdoor head.
The guys carry on and arrive at their campsite, then after setting up the tent, they shoot the shit around the campfire and Justin teaches Blake what a s'more is and how to make them. They retire to the tent where Justin pounds the hell out of Blake's ass and blows his wad all over it. I'd like to say that they settled in for the night, but I suspect someone had to take care of Austin Wilde's dick -- he was doing the filming and I'm sure was quite horny by the time this tent fuck was over.
See more at Guys In Sweatpants