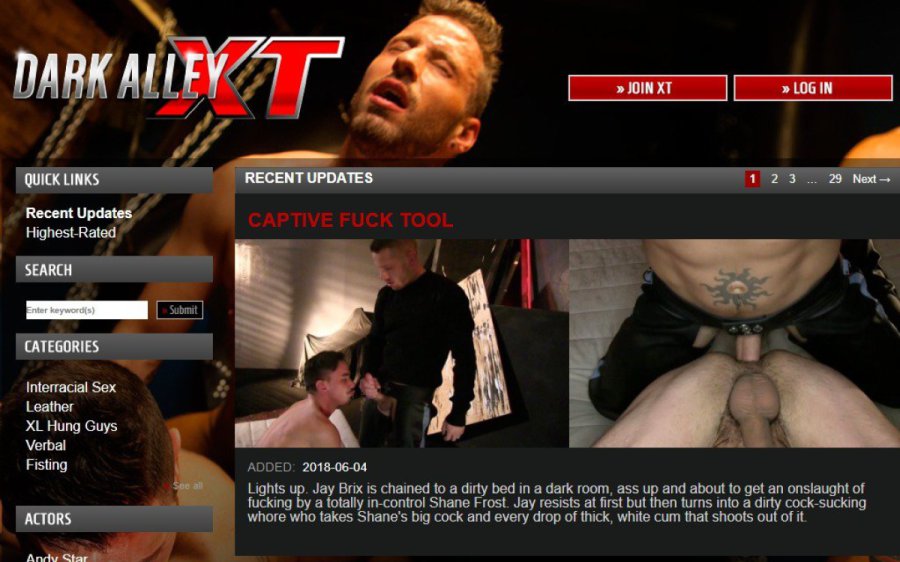 Dark Alley XT originally opened as Dark Room and we reviewed it back in September 2014, but after a change in directors, the site was renamed and redesigned in May 2015, when we reviewed it again. The original site had a heavy emphasis on fisting and extreme ass play, and while it still contains those kinds of scenes, newer ones are featuring a lot more rough fucking and barebacking. So let's have a look at Dark Alley XT and see what's been happening since our last visit.
There are now two sites with the Dark Alley name. The first and original produces its content in New York City while Dark Alley XT films in Europe; keep in mind that the site has changed directors, so earlier scenes used American men. What's consistent, though, is the type of men: sexy, masculine hunks with nicely-defined or well-muscled bodies. The men appear to be in their mid-twenties to early forties, and you'll find plenty of leather men, punks and even a few skinheads. Some have body hair, others are smooth, and they're a mix of tattooed and not. And since many of the more recent episodes were shot with European men, you can expect lots of uncut cocks.
I was thrilled to see a lot of my favorite European hunks here, and lots of them hail from Spain like real-life lovers Antonio Miracle and Mario Domenech (they split up after this review was written), Max Toro, Martin Mazza, Letterio Amadeo, Max Duran, and sexy bald newcomer Viktor Rom. There are others like Logan Moore, Joe Gunn, and Geoff Paine, and plenty of men I haven't seen before. And recent updates include men like Adam Russo, Antonio Biaggi, Chase Coxxx and Christian Torrent. You can expect them to be wearing a variety of gear like jockstraps, denim, leather gear and, of course, nothing at all.
A little less than half of the videos fall under the category of "extreme penetration", so you can expect lots of fisting (even the odd foot fucking) and large dildo play. But the newer videos produced under the new director are less about handballing and feature more rough fucking, barebacking and cum eating. That being said, the most recent updates have more fisting and dungeon action that the ones from a couple years ago; seven of the latest ten updates offer fisting, and there's plenty of dirty pigs sucking, fucking and guzzling cum. Two of those latest updates include threesomes and two more with groups of five men.
There are some threeways and orgies, although not all are listed in the Orgies category, and the rest of the videos are one-on-one sessions with aggressive tops using their bottom's mouths and asses however they want, and it's usually hard and rough. These sessions can get pretty dirty with lots of verbal abuse, dirty talk, spitting and manhandling. The action is filmed in playrooms, some dungeons, and some home-like or hotel settings.
Dark Alley XT gives you unlimited streaming to their 283 mostly-exclusive videos. These are offered in MP4 format and stream at 760x428 at four different speeds, and each progression improves the picture quality but does not increase the player's screen size. These are good amateur productions and most fare pretty well at full-screen mode; the vids are also mobile compatible and looked good on my phone and tablet. The videos play with no stopping and starting, and I had no problems jumping ahead in a scene. There are no downloads here unless you pay individually for each scene.
Each episode has eight to ten small screencaps on the page that let you preview the action. These are sized at 450x253, so they're large enough to let you see what's happening in each shot. In fact, although the pics aren't clickable and have no features like slideshows or zip files, I found some in each set that might still be worth saving for later.
Let's talk about issues. The biggest issue here is that the site stopped updating in June of 2018, but there's enough here to keep you busy for a month or two. If you prefer to stream the videos, you'll be happy with what you find here, but if you prefer downloads, you'll be disappointed that they're not included with your membership. You'll want to check the default speed before you begin watching because it's often one of the lower speeds, and the higher speeds give better quality. The videos aren't all 100% exclusive as I have seen one of these videos on another site, but the site says some of the vids are exclusive.
As I mentioned earlier, the orgies category doesn't include all the threesome and group episodes, and this may be the case with other categories. Because of this, it's worth browsing the episodes to see if there's more of what you're looking for rather than giving up after checking a category.
Dark Alley XT features masculine men and dirty, raw and sometimes rough sex. You'll find plenty of leathermen, tattooed men and porn stars, and there are a good number of European men, which means uncut cocks. Although the newer videos have less handballing than the other ones, fisting hasn't been completely obliterated, either. What's important is that the sex is still rough and dirty with lots of sweaty bareback fucking, dirty talk, manhandling, and I enjoyed seeing these aggressive tops unloading on butt holes or down cum-hungry throats in 283 streaming, mobile-compatible videos. While the site has stopped updating, there's still a lot to see here. If you like your sex on the piggy side, you should be happy with the offering here.
Click here to visit Dark Alley XT
---
Bookmark and Share
---