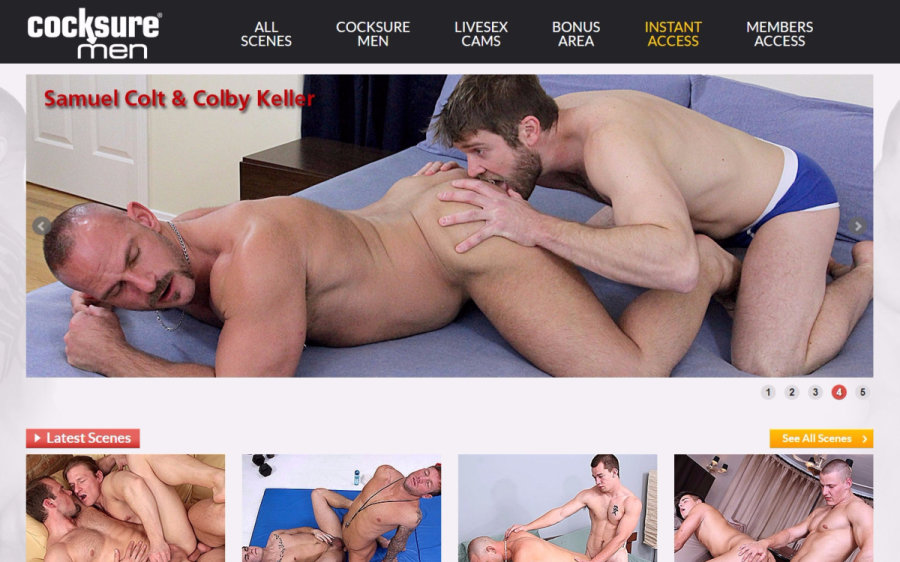 Cocksure Men has been filming since 2008, and it's been featuring hot men in sizzling sex ever since. There's a variety of men from college jocks and athletic guys to beefy men and muscle hunks ranging from their early twenties to their forties. Originally the site tended to lean towards jocks and athletic studs, a mix of newcomers and porn stars. Around May 2014, the site outsourced most of its film production to a European studio that used lots of Euro hunks and studs. Lately you'll find a mixture of performers including Czech hunks and porn regulars and well-known stars.
The site's like a who's who of gay Pornland - you'll find muscle porn stars including Zeb Atlas, Leo Giamani, and Phenix Saint. A few years in there were lots of mature men like Brad Kalvo, Shay Michaels, Josh West, and Adam Herst, but Cocksure Men didn't abandon its love of jocks and athletic guys. Since May 2014, with videos being a mix of American and European productions, you'll find a mixture of performers including Czech hunks and European porn regulars as well as well-known stars including German-born Hans Berlin and big-dicked Sean Duran, and in the last year and a half they've added stars including Rocco Steele, Matt Stevens, Jed Athens, and Alessio Romero.
You'll find a great mix of body types and attributes from slender guys with athletic bodies sporting some definition right up to muscle hunks with gym-built bodies and powerful physiques. And you'll find some of what you're looking for whether you prefer smooth or hairy guys or men with or without tattoos. The men are mostly Caucasian, but there are a handful of black performers as well, and many of the men are clean shaven, although there have been more performers with beards added in the last year and a half.
When Cocksure Men launched they filmed exclusively with condoms, but they started filming a lot of bareback sex about a year later. They now film bareback fucking exclusively and haven't produced a scene with condoms since January 2014. When the site first opened they alternated between solo jack-off videos and hardcore scenes, but they haven't released any solos for quite a while. Likewise, while the site has filmed some threeways, there were none for a while and there have only been a handful in the last year, although Leo Giamani's seven-man bareback gangbang is still legendary.
The action here isn't bogged down with plot and stories; the men get together and fuck in locker rooms, offices, living rooms, bedrooms, kitchens, and hotel rooms. In one scene a blond guy kneels at his locker at the gym and tries not to stare at his locker neighbor's semi-hard dick, which nearly pokes him in the face a couple of times. Finally, he reaches out and sucks it without asking, and the dick's owner doesn't protest. The blond cocksucker gulps this hard dick for quite a while until the hunk bends him over and fucks him over the bench. And in a recent scene, hairy beefy muscle man Thomas Ride forcefully barebacks slender Omar Radek's hole after the two trade blowjobs and Omar rims Thomas' puckered ass.
Some of the scenes are more raunchy with aggressive fucking like that locker-room scene, but others are more romantic or playful, with passionate sex verging on lovemaking. Regardless, you'll be treated to hot kissing, dick sucking, rimming, ass fucking, and of course juicy cumshots blasting across bodies and faces. There are also a few scenes of erotic massage that are worth checking out.
Cocksure Men now offers 643 videos offered in streaming and downloadable MP4 format. The newest are good quality videos offered in four sizes at 640x360, 854x480, 1280x720 and 1920x1080, the smaller sizes perfect for mobiles. The older sessions can be downloaded in two sizes at 480x360 and 640x480, and both sizes are mobile compatible. Older videos stream at 750x560 and newer ones at 994x560, and both can be enlarged to full screen, although the newer fare best. I'm happy to report that the very oldest videos are still good quality considering they're eight years old; I wish more sites would take the time to re-master their videos.
Most of the videos come with a set of pictures linked from the associated video's page. These are mostly good amateur quality digital stills sized at 960x540 or vice versa. Unfortunately they're not offered in thumbnail galleries; instead you have to navigate from one picture to the next in a slider. There's no hands-free option, but you can download each set in a zip file.
Cocksure Men members also get access to Straight Guys for Gay Eyes, a site from the same studio that offers straight guys jerking off and nailing chicks, but the straight sex is shot to show off the guys rather than the girls. You'll find some familiar faces here including Connor Maguire, Bo Dean, and Zeb Atlas in over 400 videos, and while this site stopped updating for a while, it's back to adding new content. Members also get five third-party video feeds including Treasure Island, BARE, and three Raging Stallion feeds. There's also a link to a third-party cam site, but that requires you to spend more money to see any nudity or action.
Now let's talk about updates because there's been a change. The site is no longer producing new content at this time; instead they're recycling updates. What that means is that they remove a number of videos from the site, then add them again as new updates. Luckily there's enough content to keep you busy for at least a couple months, and of course if you've never been a member of the site before, all the content will be new to you.
Does this site have any more issues? The site's updated design and member area tackled many of the issues we had a while back, making everything more user friendly. My biggest complaint here is the 12 gig per day limit, which seems to apply to streaming and downloads (but as bandwidth limits go, 12 gig is pretty reasonable). Also the non-recurring month membership costs $25 more than the recurring monthly membership, and the non-recurring 100-day membership costs $50 more than the recurring quarterly membership. It's also worth knowing that by joining the site, you automatically agree to receive emails. Last is the lack of thumbnail galleries, which makes navigating through the pictures cumbersome.
Like I said before, Cocksure Men has been like a who's who of gay Pornland over the past nine years. You'll find lots of your favorites, past and present, and the site introduces us to lots of new faces, or, in the case of the European hunks, guys new to North Americans. The guys jump into the sex pretty quickly and Jake Cruise isn't a heavy-handed director, so the performers are usually free to go where they want sexually. Members get access to 643 exclusive videos to download, stream, and watch on your mobiles, and although the site is now recycling updates, there's plenty to keep members busy. The bonus access to Straight Guys for Gay Eyes makes a Cocksure Men membership a good deal, and the porn stars and hot bareback action will keep your dick hard.
Click here to visit Cocksure Men
---
Bookmark and Share
---