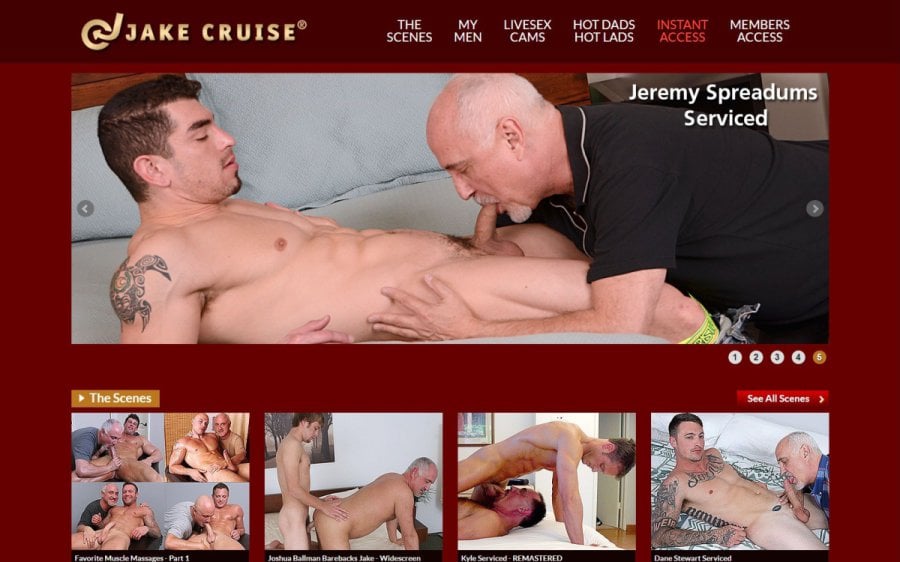 Jake Cruise is a horny daddy who years ago found the perfect way to get all the cock he could possibly handle - he started his own porn website. Jake is over fifty (and probably approaching sixty) with silver hair, a beard and a great sense of humor, as well as a very active libido. The guys he casts and stars with are well-built hunks, amateur first-timers, the occasional super cute twink, and gay porn stars you're probably familiar with including Connor Maguire, Topher DiMaggio and Leo Domenico. Sometimes Jake casts more mature and well-built porn stars including Trenton Ducati, Carlo Cox, Jeremy Stevens, Jessy Ares, Brad Kalvo and Adam Russo to star in a scene with him or with others.
There are plenty of horny performers in their twenties, thirties and some in their forties, as well as fresh-faced models with that boy-next-door look. Some of the guys are not only amateur but straight, and there's a good mix of smooth, muscular chests and hairy pecs that will have your mouth watering. Some of the guys are clean-shaven while others sport facial hair from a little scruff to trim beards. Cruise especially loves hairy men, so you'll find lots of them here, but not exclusively so. And just to drop a few more names, you'll find stars like Samuel O'Toole, Girth Brooks, Marcus Ruhl, Ty Roderick and bodybuilder and legendary star Zeb Atlas, who did his very first gay-for-pay video for Jake.
Jake knows what he likes, and what he likes is sucking cocks and getting fucked on camera. Cruise appears in a lot of the videos where he mostly services the men. Sometimes he starts off with a massage and moves into the dick sucking, rimming, and yes - there's fucking, too, but not in every video. Jake often jacks the guys off so we can enjoy seeing their dicks explode all over their bodies, and he usually licks up as much of their cum as he can. And sometimes the men forego the handjobs and just blow their wads right into Jake's gaping mouth. There are also some solos, and occasionally Jake feeds his dick to one of the guys.
Jake doesn't appear in every video, but he's in most of them. In the last 24 videos, he appears in all but seven of them; a couple feature two guys barebacking and the rest are solo masturbation sessions; in the next 24 movies, Cruise is in all but three of them. And when there is fucking, it's a mix of condom and bareback fucking. Jake is a versatile guy who both tops and bottoms when he's in the scene.
Jake Cruise now offers 626 exclusive, DRM-free videos in MP4 format. The newest videos are offered in several sizes from 640x360 to 1920x1080; older videos from as early as 2002 come in three sizes from 480x360 to 960x720. The videos are good amateur quality and obviously the newer ones are more crisp, but the older ones are still pretty good. And the smaller sizes are compatible with most mobiles. The streaming vids play between 1032x788 and 1400x790, depending on the age of the scene. All the videos play smoothly with good sound, and there's a full-screen option with varying results, but mostly they're pretty good.
Except for a few of the oldest episodes, all the videos come with picture sets. These are digital stills shown at about 960x640. Quality is mostly good amateur, although the newer pics are sharper and clearer, and some of the oldest sets are more amateur quality with minor lighting issues. The pics show off the guys and the action pretty well, and if you find some sets you like you can download them in zip files. You can also save pictures individually, but there's no thumbnail galleries, so you have to click through the photos one by one using the forward and backward arrows. There are no slideshows, either.
The site has a couple of navigation flaws. First there's a search box only on the My Men page and you can only search by model's first or last name, not attributes like hairy, hung or uncut. There are no categories or tags to help you find more of the models you like. The men are organized by their appearance on the site, but you can also sort them by most popular or name, and there's an alpha index as well. The guys themselves have a stats section detailing their age, astrological sign, height and weight, dick size and whether they're cut or uncut. These profiles also detail each model's scenes, which for most of them amounts to one video but some - like Leo Giamani - have as many as six or more, and Michael von Steel appears in 14 videos.
Members also get access to a site called Hot Dads Hot Lads, which features older men playing with younger guys in their twenties, so it's a good extra for Jake Cruise members. You have to access the site from within the member area, as your login won't work if you go to the site directly.
After a break from updates, Jake Cruise started updating again, and he told us that he'll be shooting new videos whenever he finds someone hot. That being said, there are only five more videos than there were just over 16 months ago; three of them are compilations like "Favorite Big Cocks Part 1" and one is a remastered video, which means only actual scene was added since our last visit. Looks like Jake is taking another break.
Aside from the navigation issues I've already discussed, there's another quirk: scenes appear 24 per page and you navigate to the next set of videos using a "next page" button. There's a "go to page" device where you can insert a page number, but there's no way of knowing how many pages are in the member area, so you just have to guess. For right now, if you want to get to the oldest videos, input page 26 and go from there.
One last thing worth knowing about is that the non-recurring memberships cost more than the recurring versions. The non-recurring month membership costs $10 more than the recurring one, while the non-recurring quarter is $25 more. Since it's easy to cancel the recurring versions, it makes more sense to join using one of those and save yourself some cash.
Jake Cruise has been offering hot hunks and porn stars, as well as horny first-timers and straight guys along with Jake himself and other daddies, for over 15 years. There's plenty of guys getting sucked including some first gay encounters, as well as rimming, servicing, some solo masturbation and lots of fucking. There are 626 downloadable videos that are also available to stream and watch on your mobile, and most episodes come with pics. Only one new video has been added since our last visit, but there's enough content to keep members busy downloading or watching for a month or two, possibly longer. I enjoy Jake Cruise as the site offers exclusive content, well-shot action, seriously sexy performers and Jake taking care of the men and their cocks.
Click here to visit Jake Cruise
---
Bookmark and Share
---