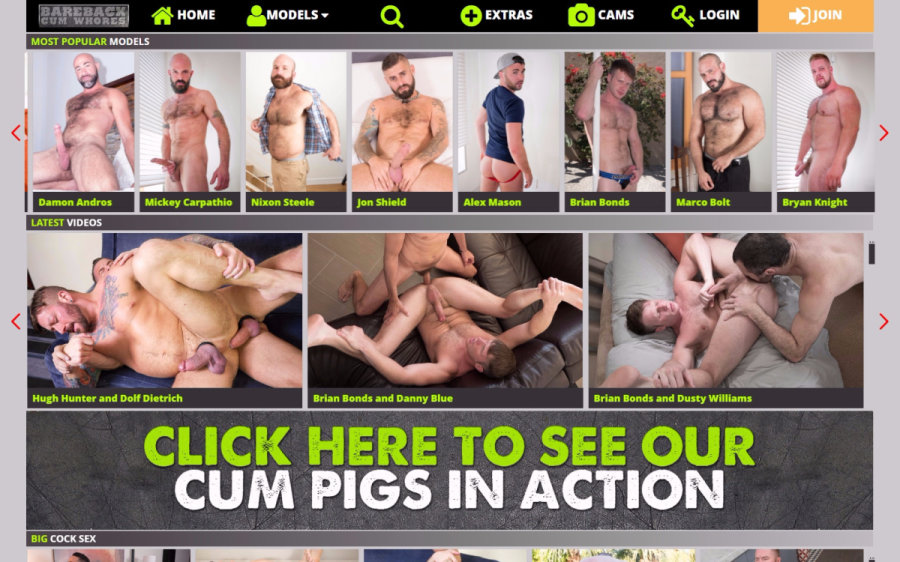 Bareback Cum Whores is a new site we just discovered. The raw fuck videos here were mostly produced under the Bareback Cum Pigs label, which is also a standalone site, however there are several scenes from Bear Films and Hairy and Raw. Bareback Cum Pigs itself now shares its member area with Bareback That Hole, but this newer Bareback Cum Whores has a scaled down members area. Confused? I'll sort it out for you, so read on
These videos feature many well-known performers from bareback porn like Tony Bishop, Hans Berlin, Alessio Romero, Stephen Harte, Brad Kalvo, Hugh Hunter, Max Cameron, Matt Stevens, Damon Andros, and Ray Diesel. There are also some newer faces like Teddy Torres, Reid Thrasher, and real-life lovers Zack Acland and Chase Acland. Most of these guys range from their mid-twenties to late thirties, but several are in their forties. If you like hairy men and beards, you'll find the selection here pretty hot; the men are generally in pretty good shape with muscular or gym-fit bodies, but you'll find a few bears with bellies. And there's a nice variety of cocks, both big and average, cut and uncut, and there's even one sporting a tattoo.
With a name like Bareback Cum Whores, you wouldn't expect to see any condom sex, and you won't. It's all raw with the men sucking and fucking in duos and ten threeways. The action happens in bedrooms and living rooms, hotel rooms, dungeon playrooms, gyms and locker rooms – there are even a couple of bears fucking on a motorcycle. Lots of kissing, nipple chewing and sucking, armpit sniffing and licking, and of course, heaps of cock sucking, rimming, and big dicks plowing raw butt holes. And most of the ball draining happens on those stretched-out fuck holes, although the men aren't opposed to loading up a bottom's mouth. And speaking of cum eating, there's plenty of that here - the site is called Bareback Cum Whores, after all.

Bareback Cum Pigs offers 88 videos in MP4 format. You can stream them at med, high or full HD; while the quality improves, they all play at the same size. The full HD video is 1920x1080, but the video player on this site is adaptive, so it may play a little larger if your monitor is big enough. I have a 26-inch monitor and the videos play at 1580x890 pixels. The videos are also mobile compatible and should play on most newer devices. Downloads aren't included with your membership, however you can download each video at an extra cost. I wasn't given download access, so I can't provide details about sizes.
Each episode I checked came with a set of photos. These are mostly digital stills, but there may be some high-quality screencaps as well. The images display at either 1600x2400 or 1800x2400. You can browse the pictures in a viewer with forward and back controls, but no hands-free slideshow. You can save the pictures individually or download whole sets in zip files.
Members also get access to feed versions of 10 other sites operated by the same company, and each offers 12 videos. Some of the sites are well-known bareback sites including Hairy and Raw, Breed Me Raw, Sweet and Raw, and Bareback Twink, although not all of these are still actively producing content.
There are some downsides. First, the site doesn't update; the most recent video was added over three months ago, but there's enough here to keep you turned on for the length of your membership. There's a pre-checked offer on the join page that signs you up for a second membership if you leave it selected. Trial memberships don't include access to everything, although the terms and conditions don't provide any details. And as I have already mentioned, downloads are not included with membership.
But my main issue is that this content isn't fresh or exclusive, and honestly for a few bucks more you could subscribe to Bareback That Hole and get nearly 500 videos including all of the ones featured here, and Bareback That Hole updates weekly.
Bareback Cum Whores offers lots of hot masculine men in bareback suck and fuck action. I really do love the men here and if you like hairy men and beards, you will, too. These mature hunks are generally in good shape with muscled bodies and big hard cocks in need of servicing. However, if you've been a member of either Bareback Cum Pigs or Bareback That Hole, you may have seen this content already, but if not you've got 88 horny scenes to start watching.
Click here to visit Bareback Cum Whores
---
Bookmark and Share
---