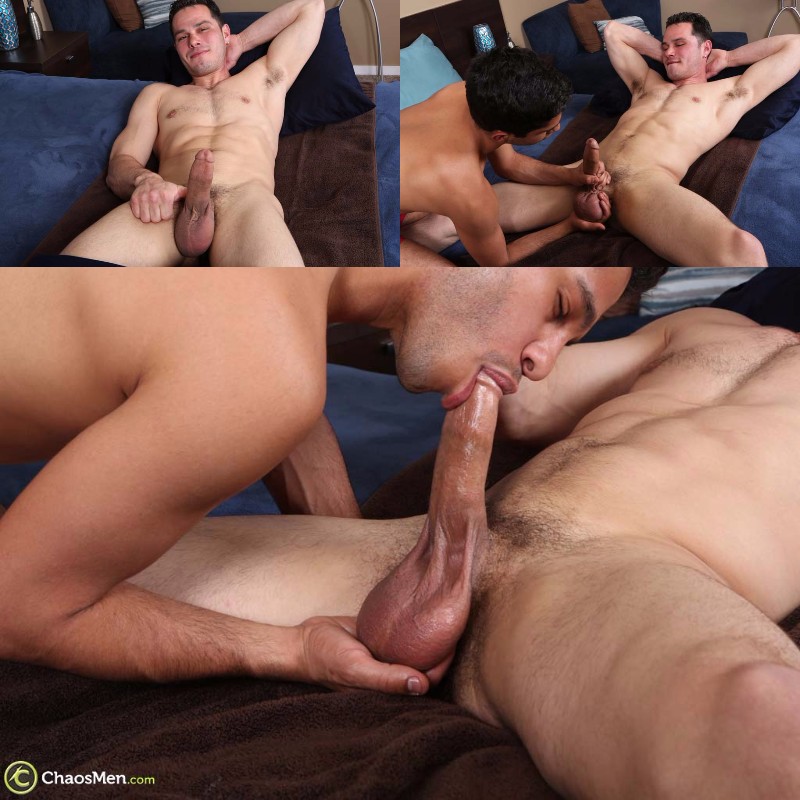 Get a $1.00 Trial at Chaos Men
We don't talk a lot about balls in Pornland, it's all about the dick, isn't it? But when a guy like Edison takes off his clothes, it's hard not to mention his nuts -- they're huge! A few girls have told Edison that his balls are big, but he wasn't sure. Chaos Men producer Brian assures Edison he's packing an enormous pair. Come inside and see him getting his first blowjob from a guy.
Edison was nervous about his second shoot because he apparently has never had a guy suck his dick before. He thought he'd be okay, but like a lot of straight guys, he was nervous about little Edison not perking up for the occasion.
Edison strokes his dick hard, then Carmine joins in and the cocksucker dives right for those huge nuts. He loves playing with them and holding them in his hand. Then Carmine swallows Edison's dick, which is pretty respectable at nearly eight inches. After blowing him for about five minutes, Carmine lubes up his hand and drives this straight boy crazy with some aggressive stroking. That got Edison writhing in ecstasy. And to cum, Edison strokes his own dick and makes Carmine suck his nuts. Do humongous balls shoot a big load? Go check it out.