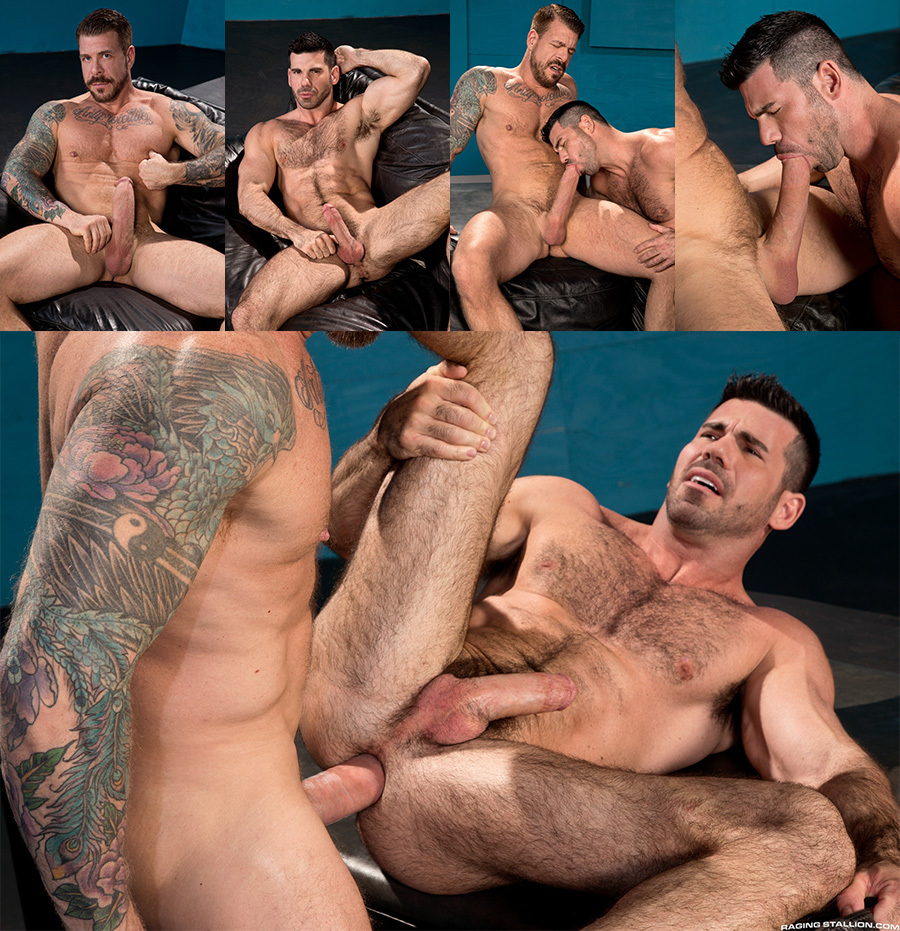 Rocco Steele hasn't even started pushing his monster cock inside Billy Santoro and Billy is whimpering. Shit, Rocco's cock isn't even near Billy's hole and he's already complaining with nervous laughs and protests. Then Rocco finally starts inching it in and Billy pants and lets out a series of loud ahs, ah-has, and ohs. Rocco eases up before he's halfway in. Poor Billy has a way to go yet before he's got all of this monster cock in his ass. I saw Billy's vlog where he talked about how Rocco really fucked him good in this Raging Stallion video -- I guess he wasn't exaggerating. Come inside and see how he does.
I'm always interested to see how Rocco Steele's scene partners fair with his ginormous dick. Most of his bottoms haven't been able to manage sucking much of it. (Owen Powers is one notable exception, he nearly hit his nose against Rocco's pubes.) Billy doesn't even try swallowing it. He moves his mouth and tongue around quickly from Rocco's cap, down to his balls, then he licks up the shaft, bobs on the head a bit, then licks down the shaft ... he's trying to make it look like he's doing a lot, but really, he's doing a whole lot of nothing. And Rocco moans like this is the best head he's ever gotten. Meh.
Rocco does eventually bury his bone deep in Santoro's ass. It's a hot sight, but my ears pay the price -- it's like a hospital maternity unit with all the wailing, howling, and crying. Jesus, shove a jockstrap in his mouth. Something. Anything. Please, make it stop. It's also a long fuck, too, and as much as Billy screams his head off, Rocco keeps going until he squirts a watery spray across Billy's back. Then an exhausted Billy lies back on the couch and pumps out a pretty thick load on his hairy abs. And thank God, it's over.