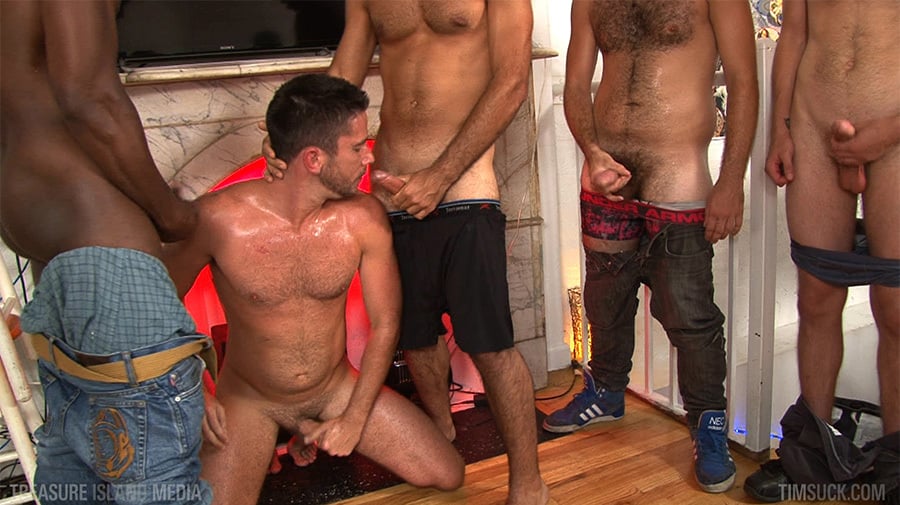 In Bukkake Swallow Party Owen Powers is on his knees with 10 studs lined up and ready to feed him their cocks and cum. Billy Blanco, Mica Medina, and Chandler Scott are three of the men being serviced in this TIM Suck video, and there's quite a variety of guys here: white, black, Latino; hairy and smooth; hung and average; and they're all waiting for their turn in Owen's mouth.
Owen Powers is one of the few cocksuckers I've seen swallow almost all of Rocco Steele's 10x7 cock. It was in a Breed Me Raw video that I blogged about back in April. So I had no doubt that Powers could handle an extended servicing session with 10 hard studs. Owen kneels on the floor and he's got guys lined up on either side stroking their dicks and waiting their turn. I have to admit that I envy Powers, not because he's got so many men to service, but because he's got an audience. It's fun showing off when there's a bunch of guys watching and anticipating how good your mouth is going to feel.
There's not a dick in the bunch that Powers can't handle and watching him do it is a lot of fun, but let's face it, the best part of any bukkake video is watching the guys unload all over their cocksucker. A couple of the guys cum down Owen's throat, but most want to show off how much jizz they have to feed him. Powers sticks out his tongue and these guys jack off. Some hit their mark, others spunk across his face, and whatever doesn't land in Owen's mouth, he scoops up with his hand and licks it up.