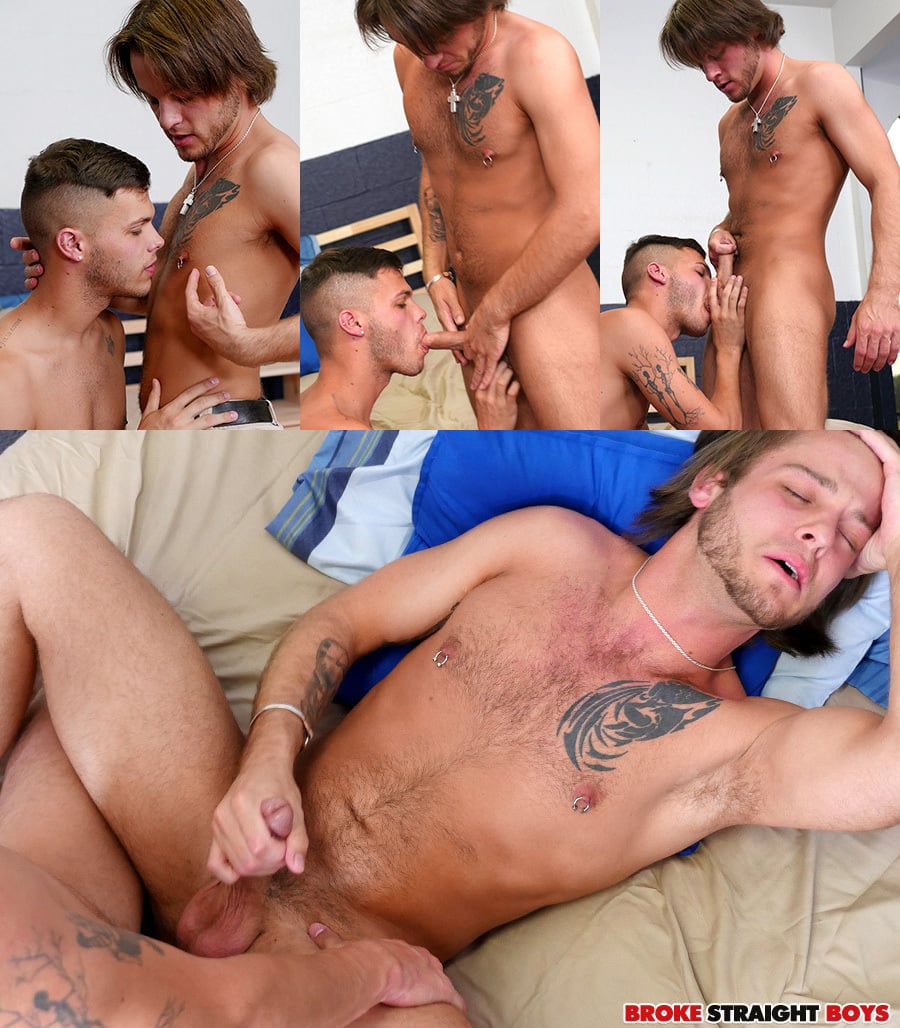 It's been eight months since sexy Zeno Kostas filmed for Broke Straight Boys. I was originally wondering if this latest was actually a new scene or something filmed months ago and pulled out of the can. But then I checked Zeno's page on the site and it's definitely new -- he's grown a whole head of hair since his last scene, as well, he used to wear a chin-strap beard and now his whole face is scruffy. Come inside and see more of his new look. Oh yeah, he's getting his ass fucked by Gage Owens who is doing his first hardcore scene for the site.
I love it when Broke Straight Boys tries pulling one over on us, like how Gage Owens supposedly has never had sex with a guy before. Okay, so maybe that's true, they didn't actually say he was straight (not in this interview reel anyway). But please. First-timers don't normally deep throat. So the producer says to Gage, "So Zeno is going to teach you how to suck dick today." Okay, so let's go with that. The last time Zeno tried to bottom, it didn't go so well -- it lasted about three minutes before he had to call it quits -- so all these months later, he's willing to try it again.
Zeno blows Gage and gives some choking deep throating, then he stands and says, "Okay, so now you're going to show me how you think it works." As expected for a first-timer, Gage tentatively sucks Zeno's cock head, then before he can go much further, Zeno wants his balls licked and sucked. By the time Gage gets back to Zeno's cock, it's fully hard, and this time, Gage does balls deep -- no problem. Hmmm. Gage mounts Zeno and slides in and Zeno gasps loudly. Gage pumps a couple of times and Zeno bellows and calls him a mother fucker, then begs, "Kiss me." And the poor guy can only manage about five minutes before he has to stop, so Gage blows a big wad all over his back. I hope Zeno keeps trying because he had moments of greatness and I think he'd be a fun bottom to watch if he'd just relax and get over it.
See more at Broke Straight Boys