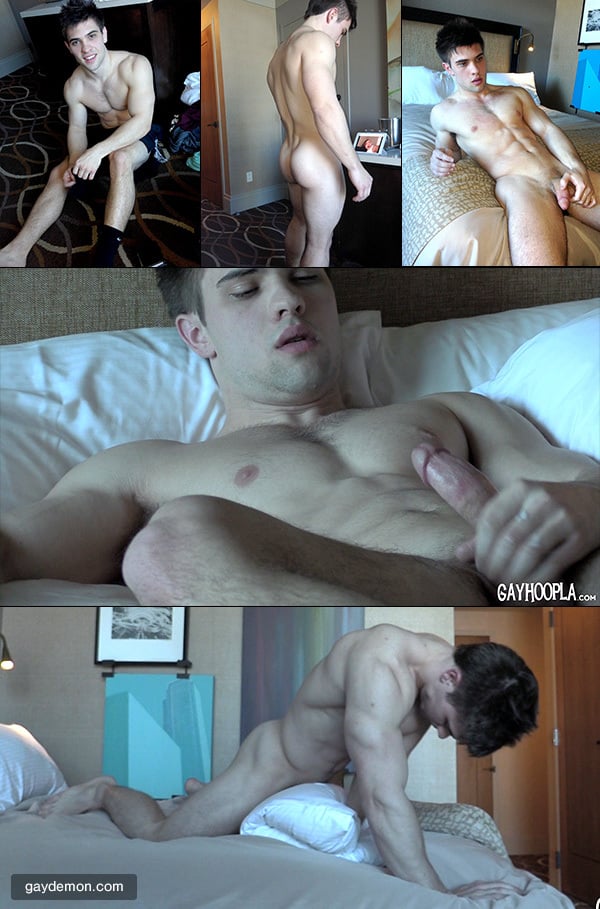 If you're a bum guy, I highly recommend taking a look at Zach Rode's sexy, round butt. This 19-year-old, personal trainer is making his debut on Gay Hoopla and he's one hot guy; and not just in the rear, but his ass is spectacular.
Zach is a handsome jock with plump lips -- book me an afternoon of kissing, please -- and a strong, ripped body, but he's a gym trainer so that's a no brainer. When he first peels off his shorts, his dick isn't all that impressive, but like most guys, Zach is a grower and he's packing a meaty dick.
But I think his bubble butt is his best feature, so I'm pretty stoked when he doesn't some dry humping on his pillow. Good grief! I can only imagine seeing those beefy cheeks pumping and grinding into a horny bottom, alright I'd settle for watching him fuck a woman if he's straight and that's all I get.
Done with the teasing, this chiseled lad lies back on his bed and strokes out a load, and when he's done, his fist is a creamy, sticky mess. I sure hope Gay Hoopla has scheduled Zach for some naked fun with some of the other guys there.