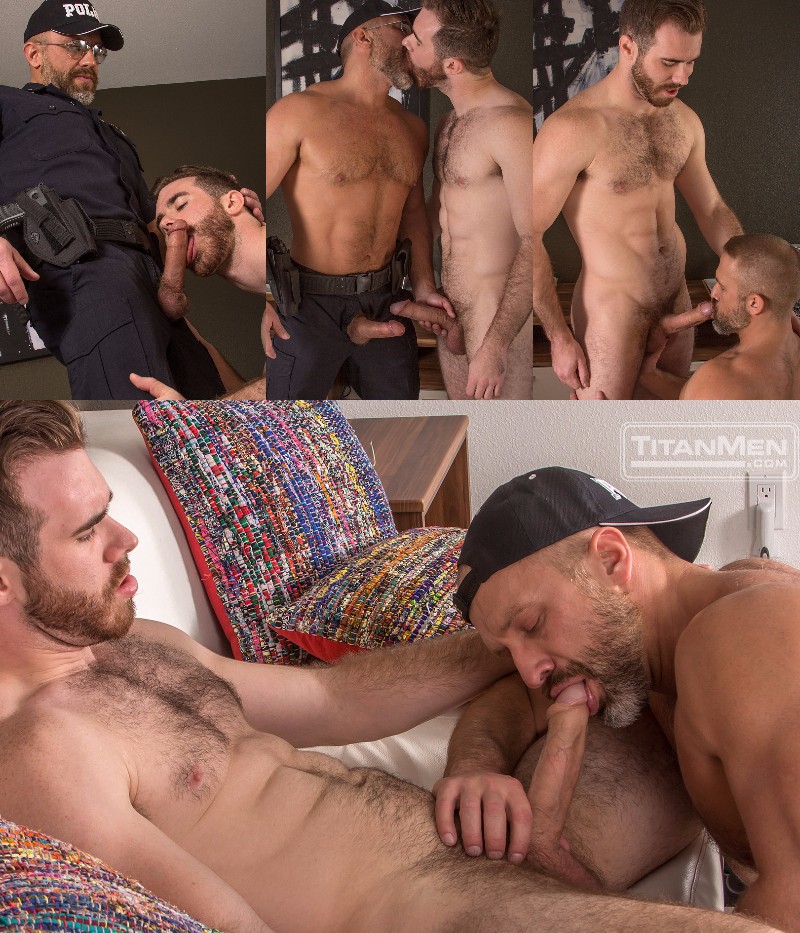 One Month Special - Save 25% at Titan Men
Can you imagine being a cop married to a UPS driver? Doesn't that conjure up all kinds of fantasies. When policeman Dirk Caber arrives from work, he finds his husband sitting on the couch, watching porn and stroking his dick. "And here I was thinking dinner might be ready," Dirk says. Matthew Bosch starts telling Dirk about his exciting day, come inside and see what happened.
"You're never going to believe what happened at work," Matthew says. He holds up a Titan Men DVD with Hunter Marx on the cover and says, "I met him on my route today." Dirk's jealous because Hunter is one of his favourite pornstars and when Matthew says they fucked, Dirk asks, "Did he fuck you better than I do?" Daddy doesn't like competition. But Matthew knows how to play this and answers, "Nobody fucks me like you do."
Daddy moves in to reclaim Matthew's hairy ass. He kneels in uniform and sucks the naked hunk's big dick. "You haven't showered, have you?" asks Dirk. "How much of that's him?" Dirk gets off smelling another man on his stud's body, but he's going to make damned sure he remarks his territory. After blowing each other, Dirk fucks Matthew on his back and sails cum all over his hairy body. Job done.