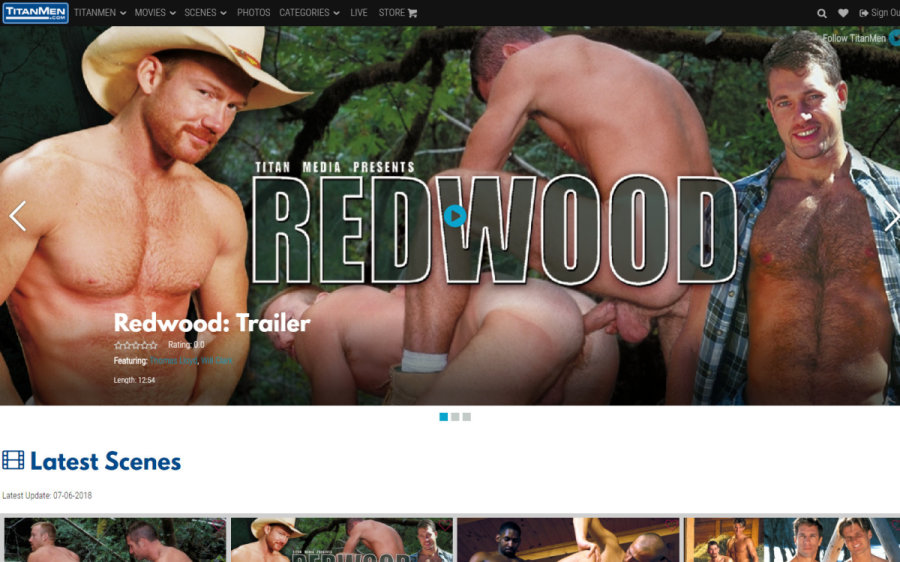 Titan Men has been around since the time when we watched our gay porn on VHS video cassettes, and they have launched the porn careers of hundreds of men, many whom soared to superstar status like Dean Flynn, Diesel Washington, and Damien Crosse, plus newer hunks including Hunter Marx, Jesse Jackman and Anthony London. Today Titan Men offers 242 DVDs in their collection plus another 50 DVDs under the Titan Men Fresh and Titan Rough labels, and they also offer videos from three more studios, bringing the total to 368 DVDs. We hear there have been some changes, so it's time to take a look at what's been happening.
Titan Men found its way into gay porn fans' hearts by featuring hot, muscular, and often hairy men at a time when most porn performers shaved just about everything to land contracts with the big studios. And while masculine hunks with furry bodies and facial hair are still one of Titan's mainstays, you'll also find plenty of smooth men. One thing's for certain, though - if you're going to film with Titan, you've got to have a rock-hard body. The men on the site range from their twenties through their forties, and there are plenty with big cocks - Jesse Jackman's legendary, heavy-hanging dick should have it's own area code. The studio also went through a period a few years ago where they filmed younger European jocks in their early twenties under the Titan Men Fresh line. And Titan constantly brings us new faces and a wide variety of models - not just hairy men and daddies, but jocks, muscle hunks, black studs, and Latin men.
When it comes to action, Titan has pretty much done it all. If there's a place you can dream of having sex, they've probably filmed it there - warehouses, garages and workshops; washrooms, bars and backrooms; gyms and locker rooms; kitchens, living rooms, bathrooms and bedrooms. And they film their men in a variety of outdoor locations, too - at the beach, on the farm, in the country - you name it. Sometimes a couple of guys are just fucking, sometimes they're playing soldier, cop, football player, cowboy, leather man, or prison guard. And the action includes plenty of kissing, sucking, rimming, fucking and cumshots, the men fucking in duos, threesomes and small groups.
Titan Men also has a dirtier side. They don't shy away from filming some of the hottest, ball-tingling BDSM scenes that include bondage, corporal punishment, pissing, fisting and assplay in the action, not to mention heaps of kinkier stuff like electro play, flogging, gas masks, hot wax, huge dildos, latex, leather, slings, spitting, and sounding. The great thing about Titan is that if you're not into a particular scene, whether it's cowboys or BDSM, there's over 20 years worth of other videos to choose from. Still, no matter how dirty they get, it's worth knowing that the studio doesn't produce bareback content.
The Titan Men member area has 2,412 DRM-free videos, most of which - but not all - are Titan Men productions. Titan has negotiated content-sharing agreements with Raging Stallion and a couple of other studios - AYOR and MSR - so you'll find movies from these studios mixed in with Titan Men movies. There are 368 DVDs featured on the site, and of these, 292 of them are Titan Men productions, 242 from Titan Men proper as well as 21 from Titan Men Fresh and 29 from Titan Rough.
Most of the downloadable videos are offered in six sizes from 480x270 all the way up to 1920x1080. Some of these are good quality recent productions while others are older videos that have been remastered, and we're sometimes talking about videos from around 1999 to 2003. Needless to say, the older videos were shot smaller and don't look that good at 1920x1080 but look better one or two sizes smaller. That being said, even the older productions look better than I'd expect in their newly remastered larger sizes. All the videos are available in several sizes that should cover mobiles from pretty old to brand new with higher resolution screens.
The videos are also offered in MP4 format in a streaming player that offers you several quality levels. One of the biggest changes at Titan Men is that their newest videos are responsive and fit the exact dimensions of your browser and computer monitor. The newer videos come in six resolutions including two HD versions. Most of the oldest videos have been remastered so they're responsive, as well. Even the largest HD videos streamed smoothly on my computer, but if your connection isn't fast enough and the vids seem jerky, just go down a size or two. The streaming is some of the best around, generally smooth with good sound.
The site lets members download 20 videos per month; these allotments are per calendar month and do not roll over. That being said, if you download four sizes of the same video, it only counts as one download, and after you download a movie you can save it again in the future without it counting toward your 20 vids per month for as long as your membership continues. While I'm not a fan of download limits, this seems like a reasonable compromise.
Titan also offers 607 photo sets, some of which contain good quality digital stills sized at up to 1280x1920 or even 1600x2345, although some of the photos are only sized at 475x267 and may be good quality digital stills or very good quality screencaps. You can download pictures in zip files and these display at 1066x1600 or smaller, and you can also save pictures individually from the online galleries, and these are often bigger. There's a hand-free slideshow option, too. I must admit that I was surprised that after 20 years of filming Titan Men only has 607 galleries -- frankly I would have expected thousands. But what's there I really liked, and the picture section has grown since our last review, although one of the latest pic updates features a star who passed on several years ago.
There are some downsides. First is the pre-checked offer on the billing page. Titan mixes scenes with trailers, behind-the-scenes videos and cumshot reels. Too many times I found myself clicking on what I thought was a full scene only to find out it was a two-minute preview or a cumshot reel. There's the 20 download monthly limit, but at least streaming is unlimited. Also I wasn't thrilled that Titan Men mixes other studios' content in with their own, but it's easy to filter scenes and DVDs by studio, and if you don't mind, it means more videos for members to enjoy.
The next thing I want to talk about is membership cancellation. Unlike most member sites, there's no direct cancallation link here. In order to cancel your membership, you must either submit a support ticket or call Titan directly, and you must cancel at least 72 hours in advance of your scheduled renewal.
There's one more thing to talk about, which has to do with updates. On our last review, the site was sometimes adding new productions and sometimes remastering older ones and using them as updates. Well, all the recent updates are remastered older episodes; no new productions are being added, and the site smaller as they take down the older videos before remastering and re-adding them. I have mixed feelings about this, because while I really miss having newly produced updates with today's porn stars, I do like watching the remastered older productions which are now offered bigger and at better quality. But each remastered DVD's scenes are added one or two per day for a few days, so if you haven't seen the particular videos or haven't seen them in a while, the remastered versions are worth checking out.
Titan Men has been producing high-quality gay porn for over 20 years, and they're one of the cornerstone studios of the gay porn industry. Men don't get much hotter than the masculine hunks, studs and daddies here. There's a lot of videos here running from romantic bedroom sex to dungeon gangbangs and everything in between. Whether you're looking for deep dick sucking or hard ass-pounding action, or something a little different like a cop fucking a speeder on the highway, Titan Men delivers. The 2,412 videos stream well, can be downloaded and the smaller versions will play on most mobiles; the photos look good, and the site adds a remastered DVD once a week, usually adding scenes and trailers or extras on different days. While all the new updates are remastered older scenes, one thing is for sure, it's going to take you a long time to get through Titan Men's huge library of videos.
---
Bookmark and Share
---