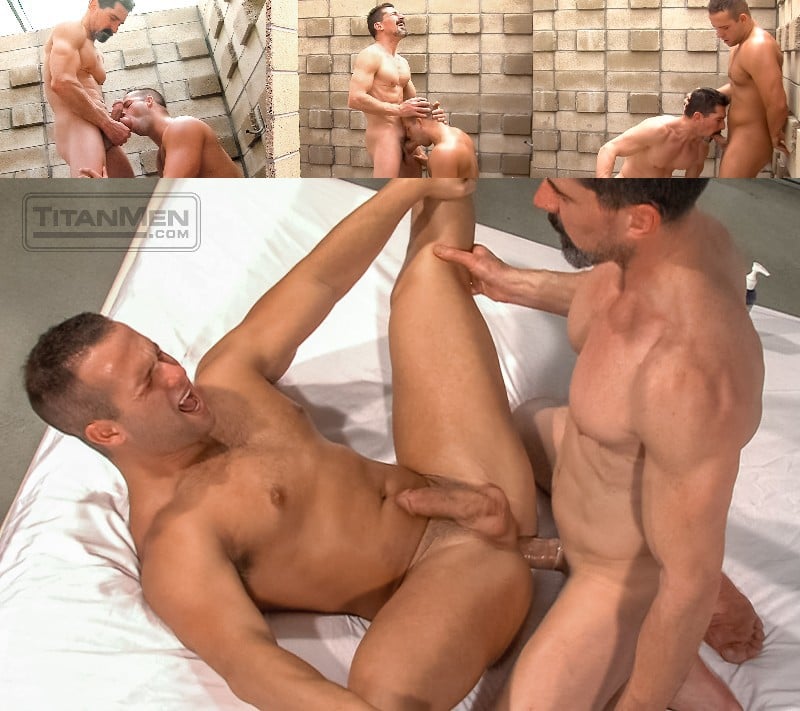 If you've been following along with Titan Men's Like Father, Like Son, you'll know that buddies Caleb King and Luke Adams caught their fathers fucking each other. The guys secretly watched and jacked off together, then after shooting their loads together, Caleb said, "I wish I could fuck your dad like that." And this led to a dare. Caleb got his crack at Mr. Benson in the second scene, and now it's Luke's turn to hit on Mr. Walker.
Caleb's dad David Anthony is in the outdoor shower in his back yard when Luke Adams appears from behind the brick wall. David's huge cock and nuts are hanging heavily between his legs. David says that Caleb isn't home. "I know," Luke answers. "I came to see to you anyway." He can't take his eyes of David's equipment and the dirty dad doesn't try hiding it, he just stands there and smirks. "Wow!" Luke pants, "You're even bigger than Caleb."
Luke kneels in the shower and gulps daddy's dick and it's hard in no time. After swapping head back and forth, David asks, "Ready to get fucked? You want Daddy's big dick in your ass?" Luke pants that he's ready and they head inside. I had forgotten that Luke was a gymnast, so seeing him lying on his back and spreading his legs wide is a horny sight. David gives Luke the hard fuck he came for and they both unload all over Luke's abs.