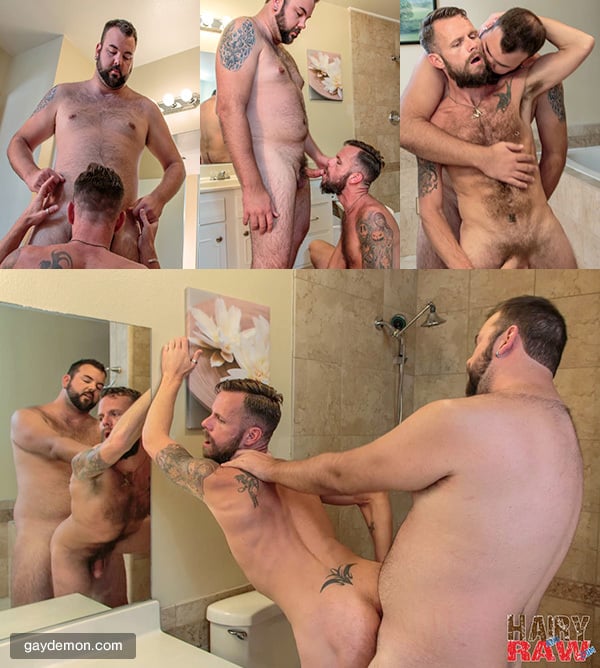 How do you feel about bears? Do you shy away from a little belly? Would you bend over the bathroom vanity and take an ass full of Aiden Storm's cock? I watched Aiden in this new scene for Hairy and Raw and he's definitely a poster boy for "don't judge a bear by his belly." He's worth bending over for.
Aiden is in the bathroom brushing his teeth when Bone Flexx comes in wanting to take a piss. Bone wears a heavy and thick beard and his torso is covered in fur and his pubes are untrimmed. He's a wild man. I'm so sick of seeing men with no pubic hair, so Bone is a welcome sight. He gets on his knees and Aiden feeds him dick and talks dirty to him.
Aiden is handsome, bearded as well, and sporting a bit of belly and a fat cock. But the thing that turns me on the most about him is his filthy mouth. He bends Bone over the bathroom counter and screws him. The two trade dirty talk, not too much, but enough to get my balls tightening. Aiden is getting close and says, "You want it up your ass?" Bone does. And as Aiden fills him up, Bone unloads his nuts on the floor. "You're a messy little fucker, aren't you?" Aiden grunts. And Bone shows him how messy and squeezes the bear's cum load out of his fuck hole. See what you'd miss if you're afraid of a little belly.