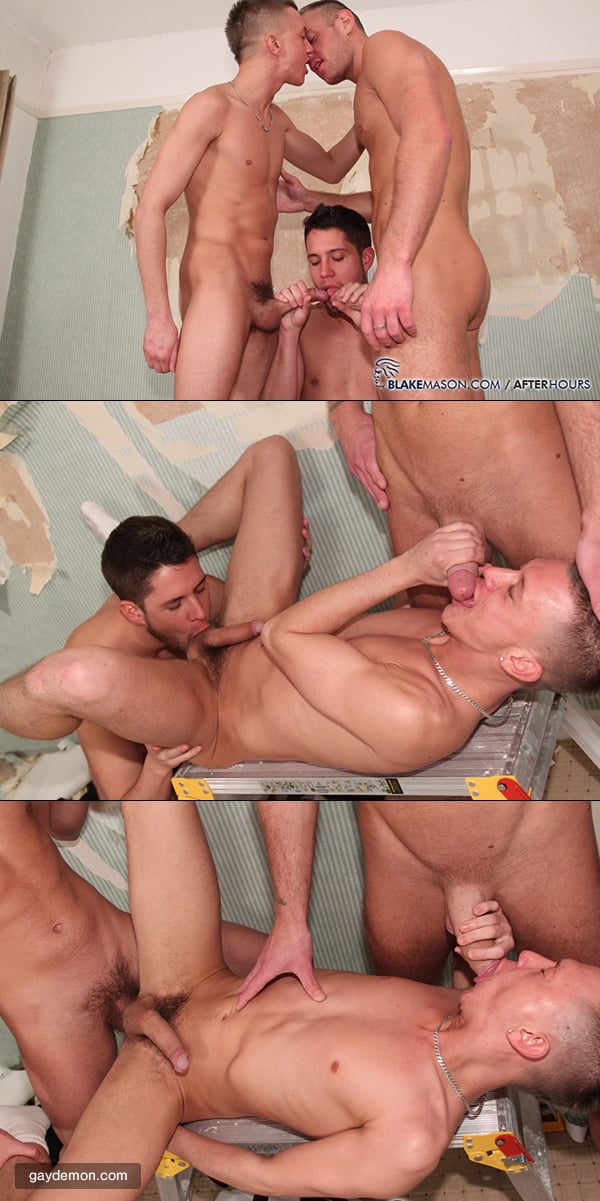 Josh Charters is the kind of lad you could swoon over just listening to a recording of his voice. He's got a masculine deep voice and a sexy British accent, and not one of those "the rain in Spain falls mainly in the plain" stuck-up English accents. But when you see Charters at Blake Mason, you'll like him: he's easy on the eyes too -- a good-looking blond with a fit body and long uncut cock.
Charters is cleaning up a wall with Mark Coxx and they're getting it ready for painting, but they're not loving the work. Josh Jared shows up to help and Charters offers to fuck his ass if Jared will finish off the work. Cocky bastard! Josh Charters still collects his pay, gets dick serviced and his rocks off, and he doesn't have to finish his work. HA! Good deal.
But Coxx and Charters are both nicely hung, so having two dicks poking his mouth and ass seems like a pretty good deal to Jared. He kneels and sucks his buddies one at a time, then tries to stuff both of their dicks in his mouth at the same time. Then Mark takes a turn on his knees before Jared bends over and gets Charters' hard-on up the bum. With the Newcastle blond stuffing his ass, Jared swallows Mark's big uncut dick.
One splatters his face with the jizz, the other showers cum all over his back, then they fuck off and leave this well-fucked lad to finish scraping those walls.