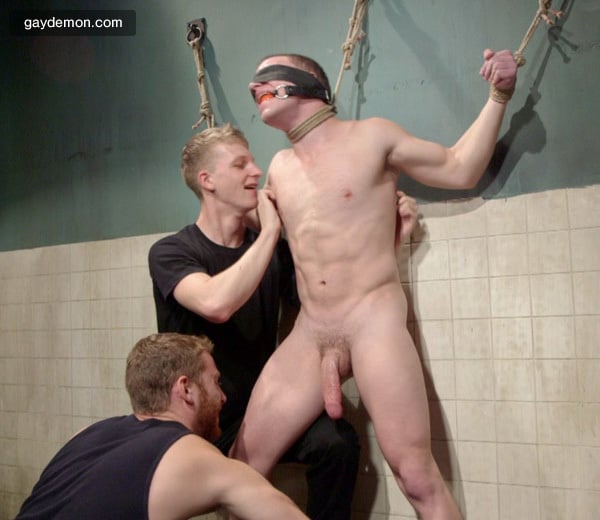 A 10-inch dick isn't easy to suck. I can do it, but I prefer to be in control. I'm sure there are many of you out there who have no problem with a man slamming his bone deep in your gullet, I'm not one of them. So seeing this Men on Edge video with Doug Acre bound and at these cocksuckers' mercy is a thrill.
Branden Forrest heads into a public restroom and stands at the urinal beside Doug. Branden doesn't hide that he's checking out the giant meat next door. Doug huffs in disgust and heads for the door, but Branden jumps him from behind. In the next scene, Acre is naked, blindfolded, and tied to the wall. "Yeah, I've got another one for you," Branden says to his buddy on the cell phone. "He's got a really big one, meet me at the warehouse."
When Sebastian Keys arrives, he and Branden have fun playing with Doug's heavy-hanging dick. After getting him hard, they tease him with vibrating hitachi sticks until he's ready to bust. But they don't let him. They bend him over and drill his hole with a hand-held fucking machine. And again, he almost nuts. Finally, Doug is tied to a bed and he's begging his captors to let him unload, but Brenden shoves his cock in Doug's mouth and shuts him up. And when they've had their fun, Sebastian lets Brenden do the honours.