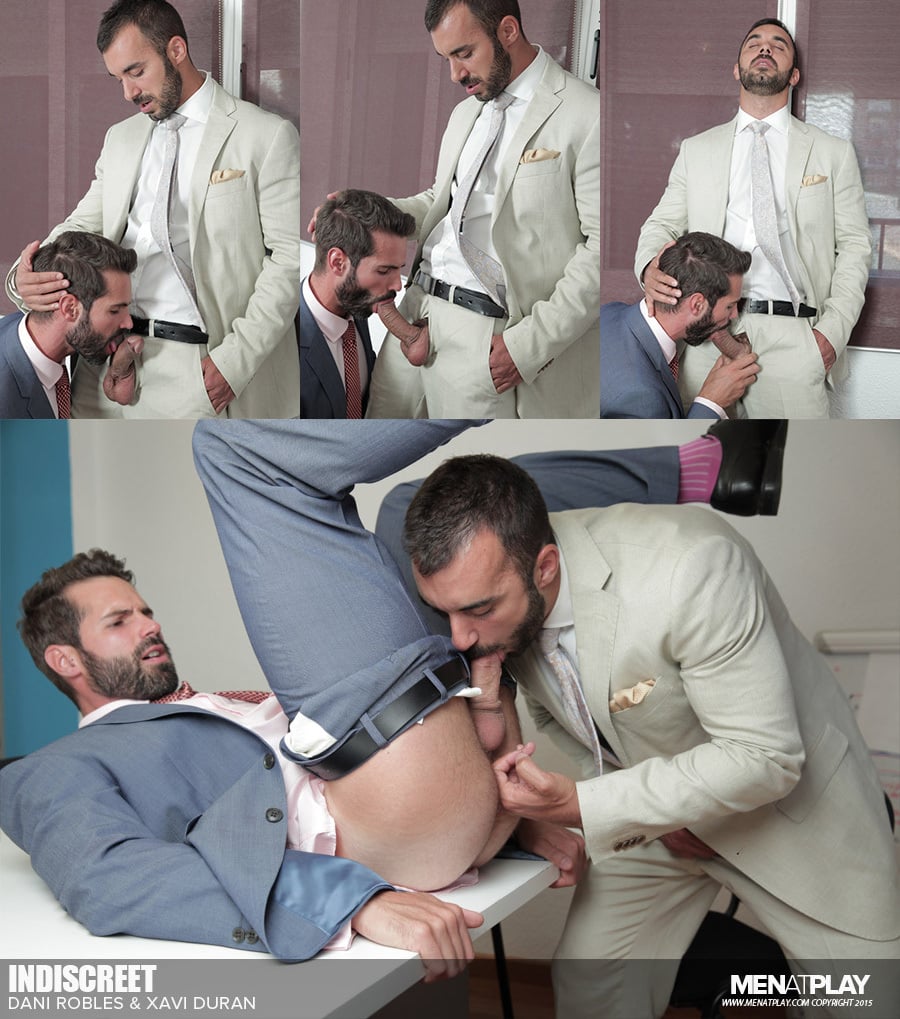 Dani Robles and Xavi Duran are setting up for a meeting in the office boardroom in Men at Play's latest video called Indiscreet. When Xavi grabs Dani's ass, the executive quickly pulls back: "What are you doing? Not here." Xavi doesn't care about appropriate behaviour in the workplace, not when his dick his hard, so he grabs Dani's hand and pushes it onto his crotch. "Have you felt this?" When Dani continues trying to set up, Xavi whips him around and kisses him firmly. Dani can't stand it anymore and reaches inside Xavi's zipper.
Remember last week when I talked about the poor dry cleaner who has to take care of the post-scene Men at Play suits? (If not, check out James Castle Fucks Sam Barclay in the Shower.) So, here we go again. Xavi pushes Dani's legs in the air and licks the ass crack of his trousers. He rubs his face and beard all over the fabric, his tongue slathers the material, and Xavi even bites it. I guess a little spit isn't too much of a bother, but later, Xavi grabs Dani's pink tie around his lube-covered hand and uses it like reins to pull Dani's head up while he fucks him.
Xavi pushes Dani back on the boardroom table, and after rimming the ass of his trousers, Xavi pulls them off. Holy pink socks, Batman! Is that a thing now? I haven't worn a suit in over a decade, so I wouldn't know. Xavi licks Dani's ass crack for real and sucks his hard-on. Then he pushes Dani to the edge of the boardroom table and face fucks him. Dani has forgotten all about proper office etiquette and he gulps greedily. By the time Xavi is ready to fuck him, Dani is begging for it.