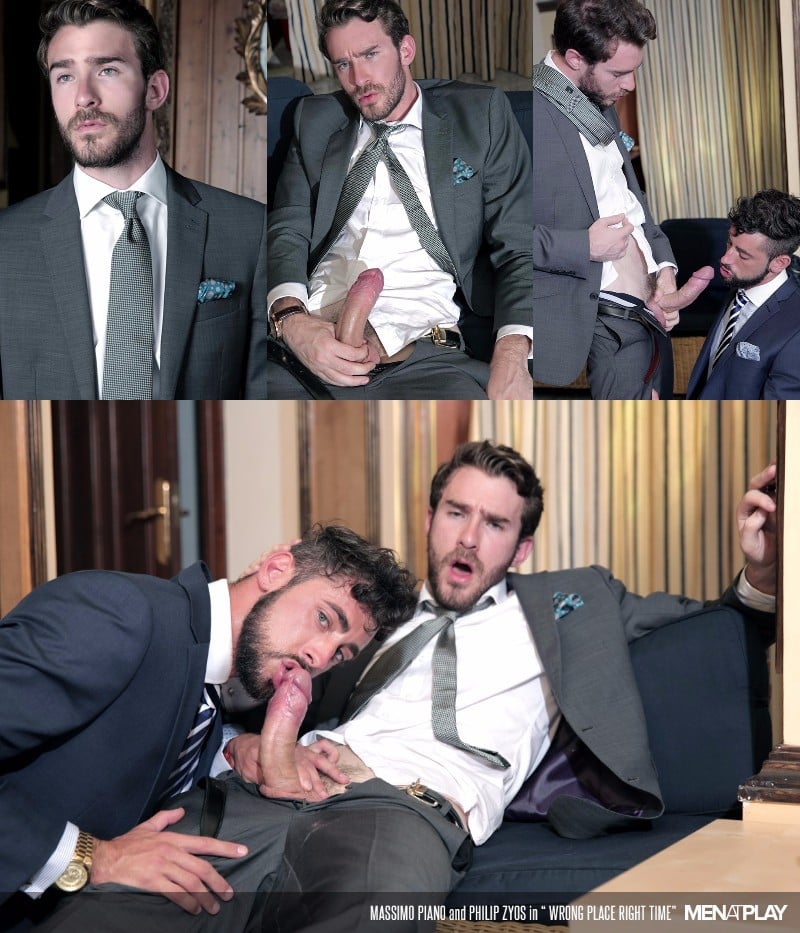 Check Out the Exciting New Men at Play
Massimo Piano and Philip Zyos have been sent by their respective companies to attend a marketing seminar. The Spanish studs didn't know each other when they arrived at the venue, but by the end of this video they'll know one another intimately. They discover that they're in the wrong building and they can either jaunt over to the right venue, or they can find something else to occupy themselves.
What would you rather do? Go to a marketing seminar or deep throat a big, curved cock? Massimo says that this event is very important for his career, but somehow he still ends up on his knees. Misplaced priorities, I guess. Can you blame him? I don't know where Philip Zyos came from, but he's brand new to Pornland and he's going to make a big splash. Wrong Place Right Time is his debut scene at Men at Play, but he's also appearing in a new scene at Lucas Entertainment this week.
I can't tell you a lot about Zyos except that he hails from Spain. He's classically handsome with a beard and sexy green eyes. He's packing nearly nine inches of dick and thank God, he's a top. The guys fall into a passionate embrace right there in the venue's lobby, then Philip sits down on the sofa while Massimo gulps down his meat. Zyos is enthralled with the stud's furry ass, he can't take his eyes off it, and even gives it a great whack with his hand. That ass is his and there's no doubt about it when you see the way he tears into it with his huge cock.