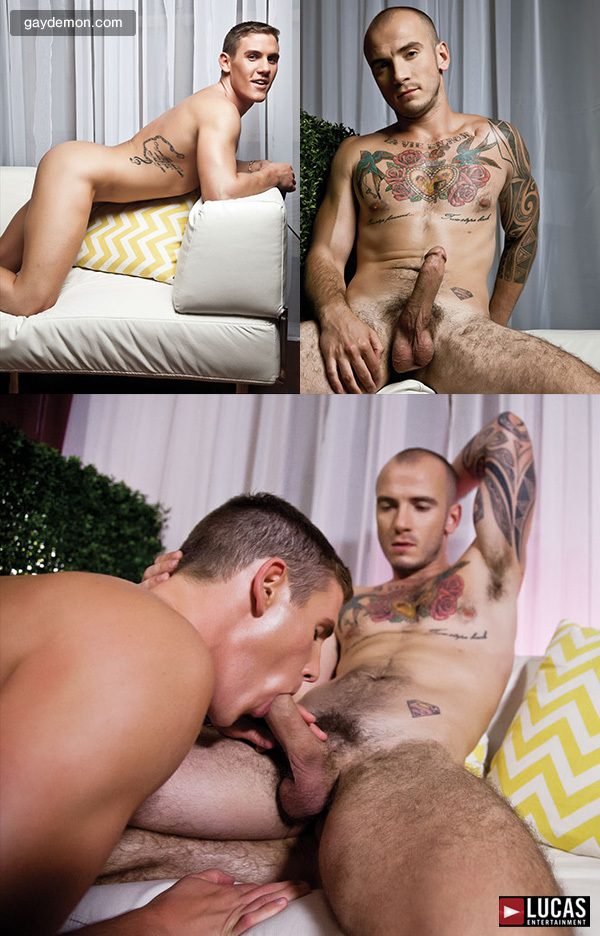 I don't remember when I last saw such a beautiful scene. If you're looking for hard ass pounding and rapid-fire thrusting, then don't bother coming inside to look at this one. But if you're into passionate love making and some of the best cock-in-hole shots I've ever seen, you'll want to check out this latest video from Lucas Entertainment.
This would be an easy video to miss if you're the type who judges books by their covers: heavily tattooed Cam Christou isn't everyone's cup of tea, but he sure is a passionate man. This scene with Brent Alex is a long, slow love-making session. Brent and Cam have some awesome chemistry, and while I'm not sure if they're real-life lovers, they swap "I love you" at the end while cum kissing. We don't see this every day in gay porn. I sure wish we did.
Cam does most of the fucking and his initial entry into Alex's ass is one of the hottest things I've seen in a long, long time. I'd be surprised if you could get through these next five minutes without popping. The camera man is right there, filming over Cam's shoulder as he teases Brent's hole with his cock head. Brent holds his cheek open so Cam can massage his dick around that mushy center. Then Cam slides in very slowly and Brent's ass lips finally pop and engulf Cam's cap.
Cam continues this beautiful cock-in-hole show. He pulls out so we can see Brent's gaping hole, then pushes back in. He never slides much more than half of hard-on inside. Sometimes when he pulls out Brent's hole convulses and pushes out some butt juice. Put this on a repeating loop and I could watch this sequence all day and jack my bone until my nuts were completely and utterly drained. I'm in no hurry for these guys to get down to the real ass pumping, but eventually they do, and it's every bit as sizzling hot.
See more at Lucas Entertainment