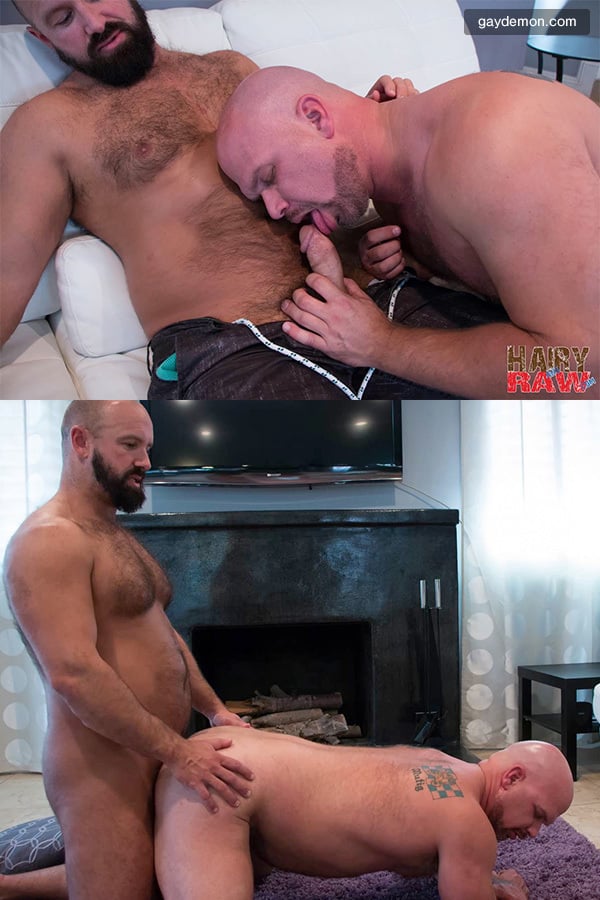 Troy Webb is one of those porn hunks who drives me crazy. He's hairy and built like a linebacker, he's bald and bearded -- he's insanely sexy. But I think he's one of those hobbyist performers who comes out a couple of times a year, makes a porno, then disappears. I'd love to see a lot more of him, but two videos a year is all I seem to get. All kvetching aside, I'm ecstatic to see him back in his third video over at Hairy and Raw.
I don't know who Wade Cashen is, he only popped up in a picture gallery on the site a couple of days ago. But this beefy, bald daddy has a hungry hole and he's eager to get it plugged. But first we get a sampling of Wade's cock-sucking skills. Daddy knows how to blow. He's a full-service cocksucker who works the whole length of Troy's dick with his lips and tongue before going deep and gulping the whole thing down.
Webb is versatile, like they say in his bio on the site, "He'll play both ways and run you ragged either way." But I prefer watching him fuck. Wade assumes the position on the floor and Troy slides in, grabs two hands full of ass, and starts pumping. It's hard going at first. "That's a tight fucking hole," he grunts, ramming it open with his dick. A couple of slaps across Wade's butt and the bottom grunts his approval. Troy ramps it up. "Whose ass is that?" he barks. "It's fucking yours," Wade pants. Yes, it is, Daddy. And when Troy's done with it, it's a creamy fucking mess.