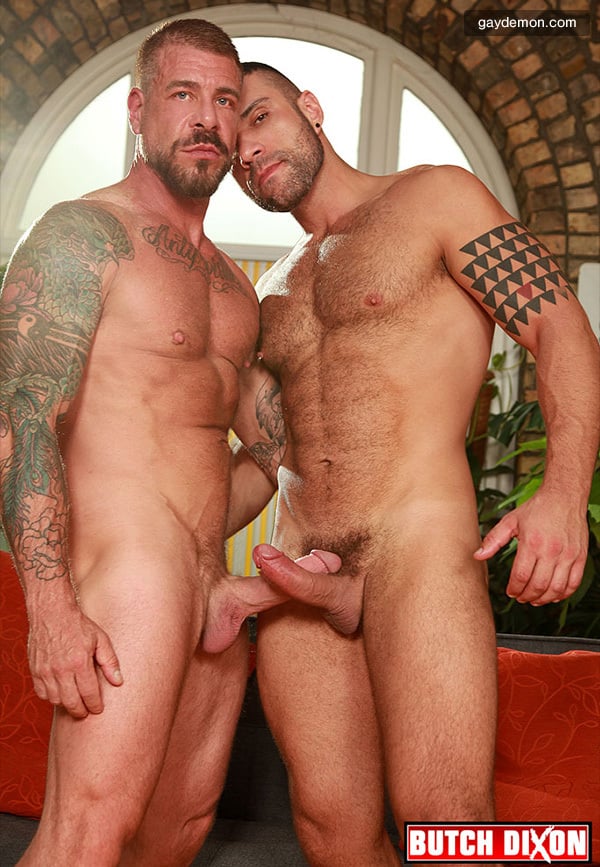 Clear your schedule for the next hour or so. In fact after finishing this first paragraph, just stop reading and head over to Butch Dixon and check out this new video with Letterio and Rocco Steele. OMG! Letterio blew my mind. I haven't had time to blow a wad yet because I had to get this post written. But believe me, within a minute of hitting the publish button, I'll have my dick in my hand.
I had no idea who Letterio was when I saw this video on Butch Dixon video, but I've been crushing hard on Rocco Steele since I spotting him earlier this summer. His 10x7 cock makes me squirm every time I see it sliding into a bottom's hole. So this scene opens with Rocco and Letterio kissing and nuzzling armpits. It's sexy stuff. After several minutes, Letterio bends over for his first gulp. He holds Rocco by the nuts and baptizes that monster with huge gobs of spit, smearing it up and down Rocco's shaft with his hand. It's like he's giving Rocco's cock a bath! Woof!
Rocco leans against the banister sliding his bone up and down Letterio's ass crack. Letterio can't take the tease anymore and he grabs Rocco's hard-on in his fist and lines it up against his hole. Then he swirls his ass slowly and keeps pushing backwards until Rocco's erection is buried balls deep. And to use a cliche: it slides in like butter. But that's not the best part. Rocco stares at the back of Letterio's head, incredulous with this this "where the fuck did you learn how to do that?" look on his face. Honestly, he's gobsmacked.
It takes Rocco a minute to recover from what just happened, so he lets Letterio have his fun. Then he takes over. Letterio braces against the wall grimacing and moaning -- even his eyes are watering -- while Rocco enjoys riding his ass. And Rocco is not into quick fucks. Enough. I can't delay the inevitable for another minutes.