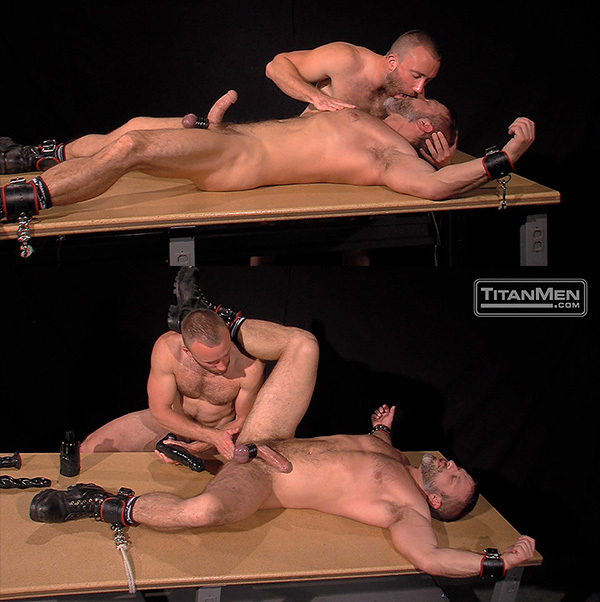 If a bottom has a top restrained to a table, is the bottom now a top? What if he sits on the top's cock? And if a bottom shoves a dildo up his top's ass, is the top now a bottom? TitanMen's new scene from "In the Shadows" is a thrilling mind fuck on the whole notion of tops and bottoms. Top man Dirk Caber finds himself restrained to a wooden table and he's helpless as Nick Prescott ravages his body.
It's fun having a man splayed out in front of you, hands and feet restrained so that he's helpless. Nick caresses Dirk's body, he rubs his face in Dirk's furry pits, kisses him, and teases Dirk's hard-on in his fist. He holds the large dildo high in the air while greasing it, so Dirk gets a good look at the size of it. He squirms with anticipation, then groans as Nick starts pushing it into his ass.
After Nick teases and fucks Dirk's hole, he wants to feel the top's bone in his ass, so he mounts him and sits on it. Dirk tries taking control with upwards thrusts, and Nick let's him for a spell, but he also pushes the top's pelvis down with his weight and rides Dirk the way he wants. He pumps Dirk's erection in his ass until his own cock spills its juice all over Dirk's belly. Then Nick hops off and edges Dirk until he's begging to unload.