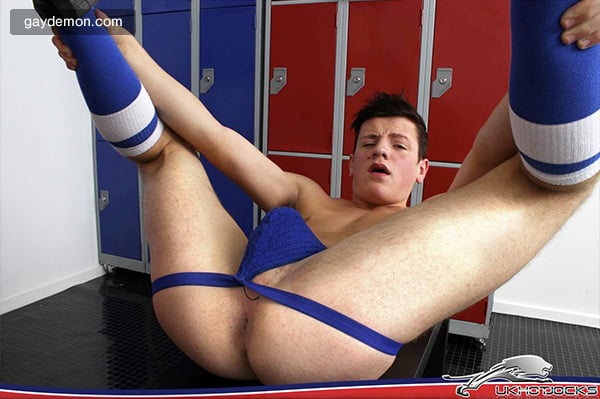 If you walked into a locker room and saw this beautiful sight, what would you? Would you push his legs back and lick his delicious hole? Would you slide your stiff cock right inside without even asking? Or would you grab one of the dildos from his gym bag and help him out? Maybe you have something completely different in mind.
This is James Lain and he's just turned 18 years old and he's the latest guy over at UK Hot Jocks. They call him a twock -- already outgrown most of his twink and well on his way to becoming a jock -- and whatever he's called, there's no confusion about his position in life. James is strictly bottom, which is a little unfortunate because he does have a thick veiny piece of meat -- delicious bulging cock head, a nice angry purple colour, too -- but maybe he could be convinced to stick inside the right bum.
But for now, James a a big black dildo that he slides into his own butt. And talk about griping strength, James holds it there hands free and lets us jealously look at how deep it is. Then this cocky Brit fucks himself silly, on his knees so we can see the butt juice leaking out of his hole. Finally, he leans back against the wall and pumps out a big load of jizz all over himself.