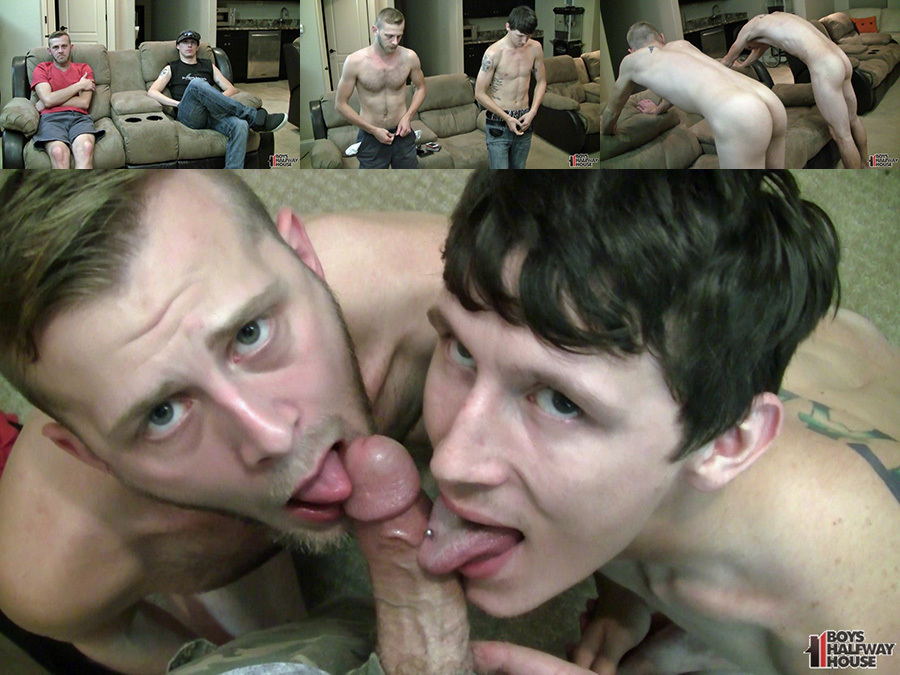 When new guys arrive at Boys Halfway House they undergo an intake interview, which includes having their bags searched, as well as a close, personal inspection of their bodies. So while one supervisor is downstairs going through Nash and Chandler's bags, another is giving them a lecture about the house rules. Then he orders the boys to strip and bend over the couch for the standard cavity search. But as Nash and Chandler quickly learn, there's nothing standard at all in this halfway house.
After the butt check, the supervisor orders the boys to their knees and he pulls out his cock. Nash Bradik is the dark-haired guy, a hardened street punk, and he's the first on the supervisor's cock. Then blond Chandler Scott is told to join in. Guys living on the streets do all kinds of thing to survive, so this pair has sucked dick before, although it's not their first choice of things to do. And Nash is definitely not thrilled about having to blow the supervisor and gives him some nasty stares.
The supervisor decides to put Nash in his place, so he fucks Chandler first making Nash squirm knowing that he's getting it next. Chandler is tight, but the supervisor opens him up, then he pulls out and makes Nash suck the butt juice off his cock. He fucks Nash next, but the supervisor has something special in store for this miscreant. He has the boys lie side by side on the floor, then he squats over them and makes Chandler jack him off into Nash's mouth. I'm betting these two are going to be on their best behaviour from now on.
See more at Boys Halfway House