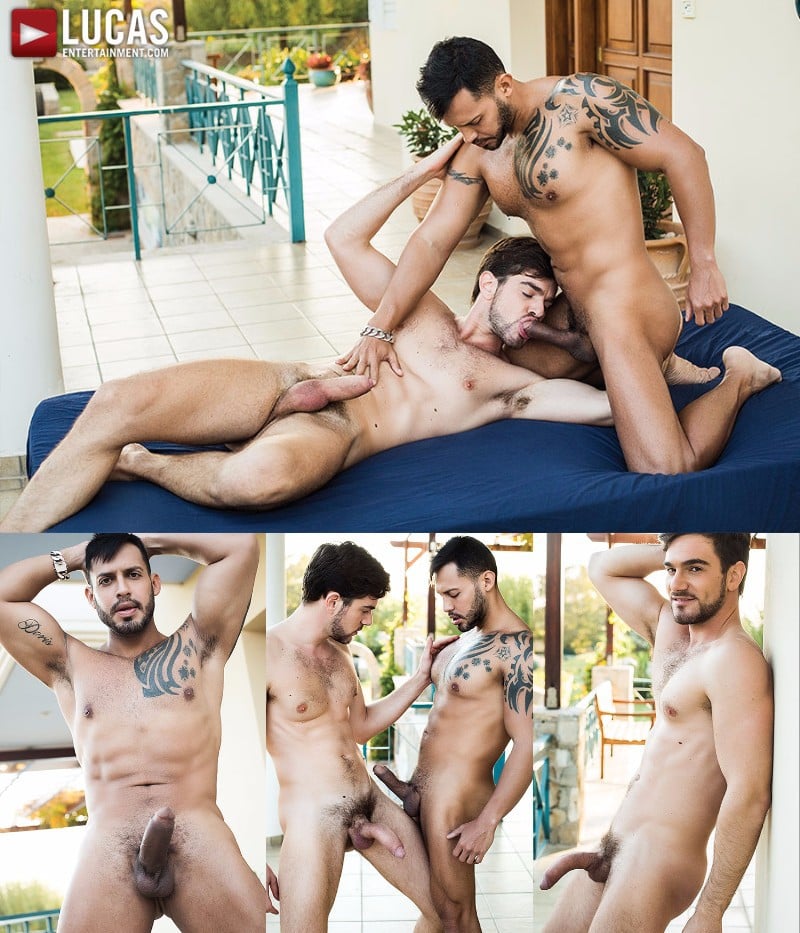 ---
Scene Pictures
Watch Three New Movies Every Week at Lucas Entertainment
"Zander Craze loves submitting himself to a total power top's throbbing erect penis." At first I thought this was just the hype Lucas Entertainment wrote to get us watching this scene. But after seeing Viktor Rom fucking Zander Craze in this outdoor sex scene, I believe it. This pair is on fire. And at times they're not just having sex, but they're making love.
First, this scene is filmed outdoors at dusk, so it makes for a very sexy session and these two aren't just fucking, they have a fiery passion like they've been looking forward to this moment for a while. They fall into each other's arms in a frenzy of got-to-have-you kissing and caressing. The opening fuck is sensational and if you don't blow you wad here, you'll be in for a long horny wank.
Zander Craze is lying back on the day bed and Viktor Rom rams his fat cock head against Zander's butt hole and pushes. No spit, no lube. Viktor rocks against Zander's rosebud, trying to get his hole to receive his dick. He adds a drop of spit and tries again. Zander's hole eases and takes most of Viktor's cap, but it needs more lube. Viktor spits in his hand and slides it down his hard shaft, then he lines it up again and drives it into Zander's ass. All the way in. Zander gasps, half in pain half in pleasure, and Viktor sighs loudly then heaves, "Oh mi amor." It only gets hotter from here and you don't want to miss these two sucking each other off. And I won't be a spoiler, but seeing what Zander does with a mouthful of Viktor cum will have you hitting the rewind button a couple of times.
See more at Lucas Entertainment