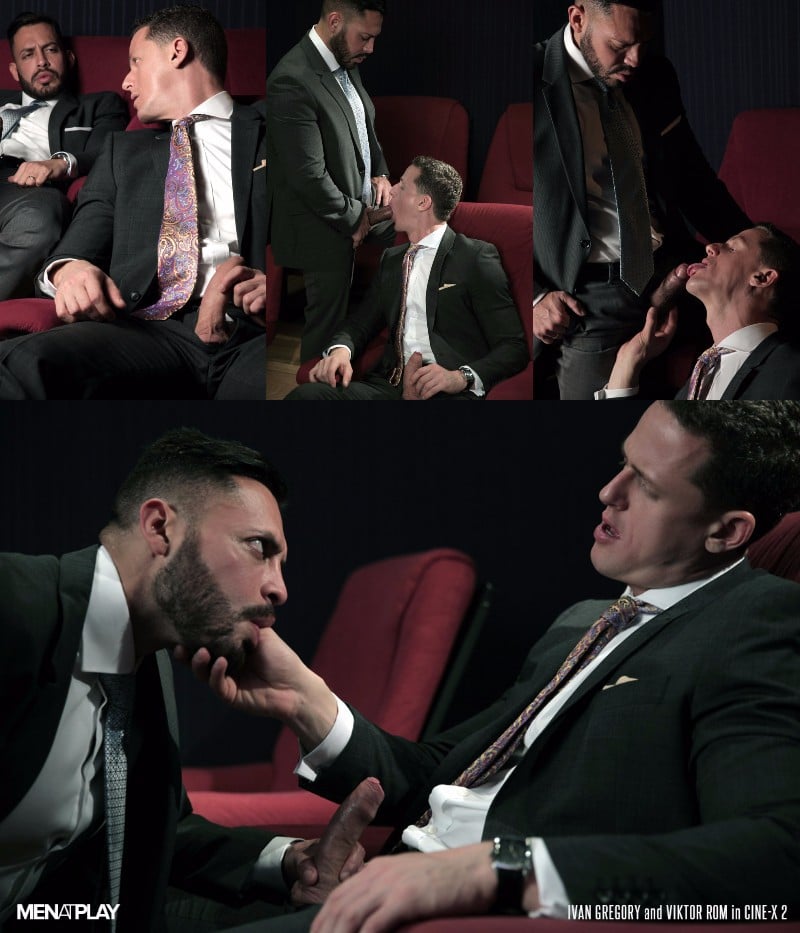 Watch Both Episodes of "Cine-X" at Men at Play
Ivan Gregory is at it again. He's horny and heads off to his favourite adult cinema to see if he can recreate his previous incredible encounter with Denis Vega. While watching the porno on the large screen, Ivan pulls his uncut cock out of his trousers and he's stroking it when Viktor Rom enters and sits behind him.
When I watched the first episode in Men At Play's Cine-X series, I was reminded that there's a porno theatre not far from where I live. Apparently they have straight and gay theatres where each can watch their own kind of movies, and I've heard that many of the guys in the straight theatre aren't opposed to getting sucked off by a guy. I've been meaning to check it out, but honestly, the idea fell out of my head until I saw this second episode. But maybe I'll head there this weekend.
Ivan looks over his shoulder and sees that Viktor Rom is stroking his bone too, and it's not long before Ivan is on his knees gulping Viktor's meaty uncut dick. Viktor is enjoying the head, but he really needs to get his dick inside Ivan's ass. When Ivan pulls down his trousers and leans against the wall, he has no idea that Viktor is going to drill him so hard. Then Viktor sits back in one of the theatre seats and lets this horny bottom ride his hard-on. And boy, does Ivan bounce vigorously, I thought they were going to break the seat.