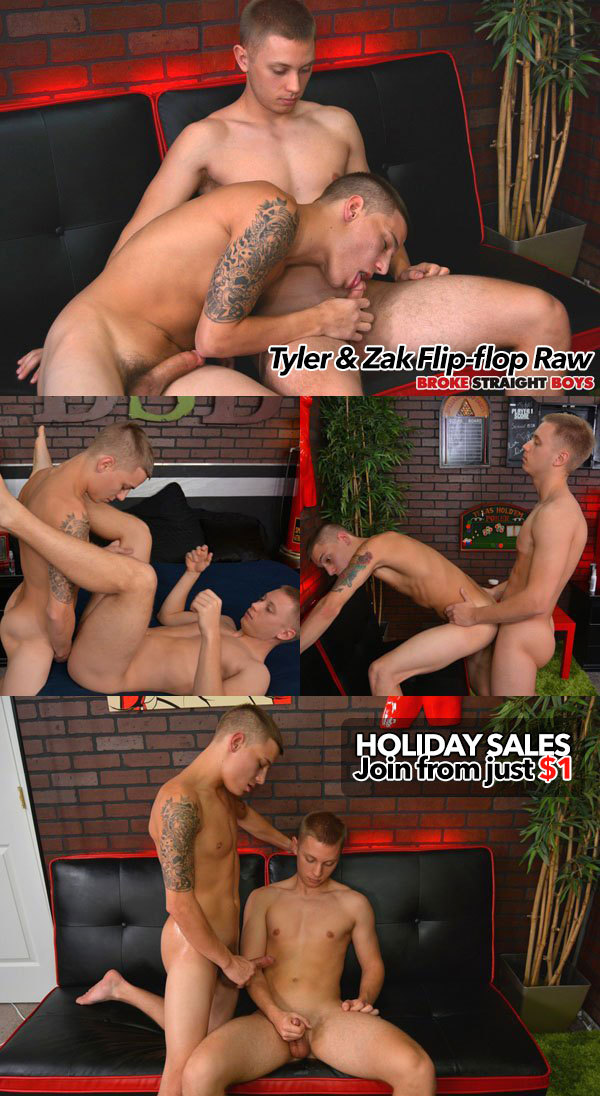 Experienced young straight hottie Tyler White leads newbie Zak Parker thru his first bareback flip fuck video over with Broke Straight Boys this week. The guys are both eager to please the waiting fans, and after some horny mutual dick sucking, Tyler impales Zak's butthole bareback - then later they flip and Zak returns the favour!
Tyler is straight, he's proudly "gay for pay", willing to do whatever it takes to make it big in porn and today that means guiding a newbie, Zak Parker, thru his first man-2-man bareback bottoming scene. The guys start off kissing and groping each other, undressing as they go. Once they are both naked, Tyler moves down and wraps his eager mouth around Zak's cock and sucks on it until it gets nice and hard. Then Zak takes his turn and goes down on Tyler's cock, getting it rock-hard, but also nice and sloppy and wet, ready for his debut bottoming!
Tyler gets Zak onto his back the bed, legs spread-wide, feet in the air - he slides his raw hard-on into Zak's virginal hole and completely fills it - then he starts fucking, and his nuts slap Zak's butt cheeks with each thrust. Then Tyler changes things up a bit and turns Zak over so he can get his cock in deeper - really giving the newbie a good first-time fuck! But all good things must come to an end - or should I say, the guys flip, and now it's Zac's turn to give Tyler's hole a great pounding. As he fucks Tyler's raw hole his moans and groans fill the air, he's really enjoying it, which just spurs the newbie on and his thrusting gets more and more rapid. Eventually tho, the guys both need to cum, they take turns and squirt their loads all over each other - then, as they sit side-by-side, both with sore, stretched arseholes, they kiss and squeeze their now soft, slippery and very satisfied cocks.
See more at Broke Straight Boys