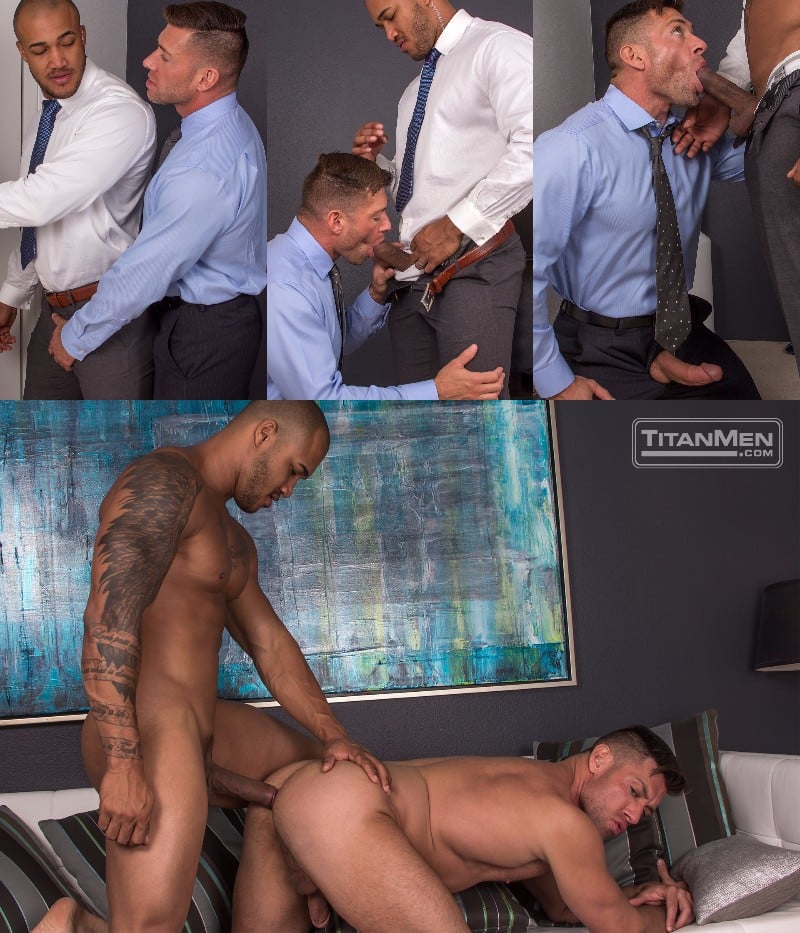 Save 25% on Your Titan Men Membership - Click Here
Special agent Jason Vario is spying on the house speaker getting his ass boned by a lobbyist in his office. As the third scene from Cauke for Free plays out, special agent Bruce Beckham leans in for a peek over Vario's shoulder. Then he whispers, "You like watching?" Seconds later, he reaches around and gropes his co-worker's crotch. Vario gives him a "What the fuck are you doing?" look, and then ...
These horny special agents forget all about what's happening in the speaker's office and become engrossed in each other's cock. These men are very well hung. Is that why they call them "special" agents? Bruce Beckham is packing a nine-inch dick. I don't know how big Vario is, but his meat is impressive, and uncut!
One problem with this scene though: When Beckham first sits down on Vario's thick cock he bellows, "Oh fuck!" And then, "Ahhhhhh ... fuck ... oh shit." What's the problem? Well, shouldn't all of that yelling bring the house speaker and the lobbyist running in from the adjacent office? I take my porn too seriously, don't I? Vario fucks Beckham on his back and the hunk cums all over himself, then Vario blasts his nut across Beckham's abs too and feeds his a cum-soaked thumb and Beckham happily licks it clean.