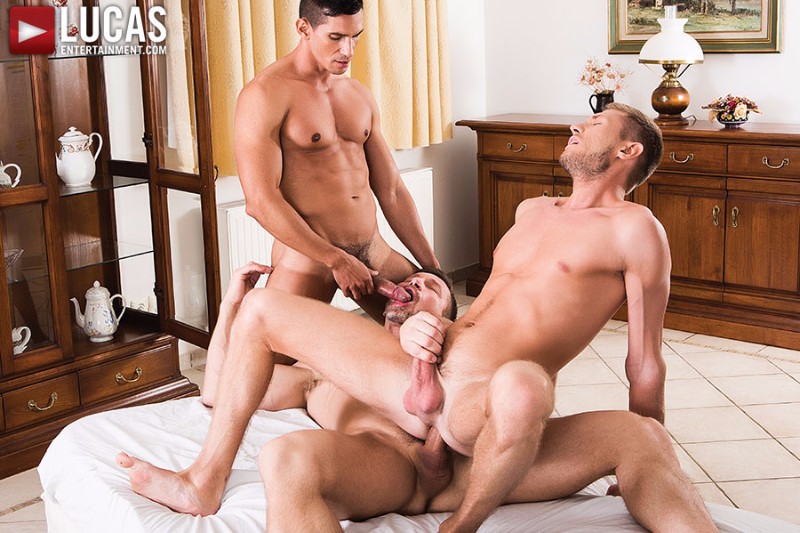 Watch Tomas Brand & Dario Leon Spit Roasting Vlad Larin
This is one of those scenes with a surprise ending, and it's not a fabulous cumshot that arcs and twirls through the air, although there is plenty of cum. No, it's that Vlad Larin shows up midway through Dario Leon drilling Tomas Brand, and this sweaty duo becomes a threeway.
Dario Leon has a big cock and he's been plowing Tomas Brand for a good 10 minutes in this Lucas Entertainment scene when Vlad Larin shows up. Tomas and Dario have been having a panting session with lots of necking, sampling each other's cocks, and of course, Dario stuffing his thick meat into Tomas' hole. That in itself would have been a hot enough video, but then Vlad shows up. There's no explanation, his hard uncut cock simply appears in the scene. Dario is too busy drilling ass to notice, so Vlad taps him on the shoulder.
Tomas Brand looks relieved to see Vlad, as if to say: "Oh, thank God, someone else to take this dude's big cock." And that's exactly what happens. After some threeway sucking, Tomas moves behind Vlad and enters him while Dario slides into his mouth. My favourite sequence? Vald is on his back and Tomas sits on his face and holds his legs while Dario fucks his ass. It's a horny bit of action where everyone's experiencing something different and it's during this session that Vlad unloads his creamy white load all over himself. When it's over, he's covered in two more wads of jizz.
See more at Lucas Entertainment