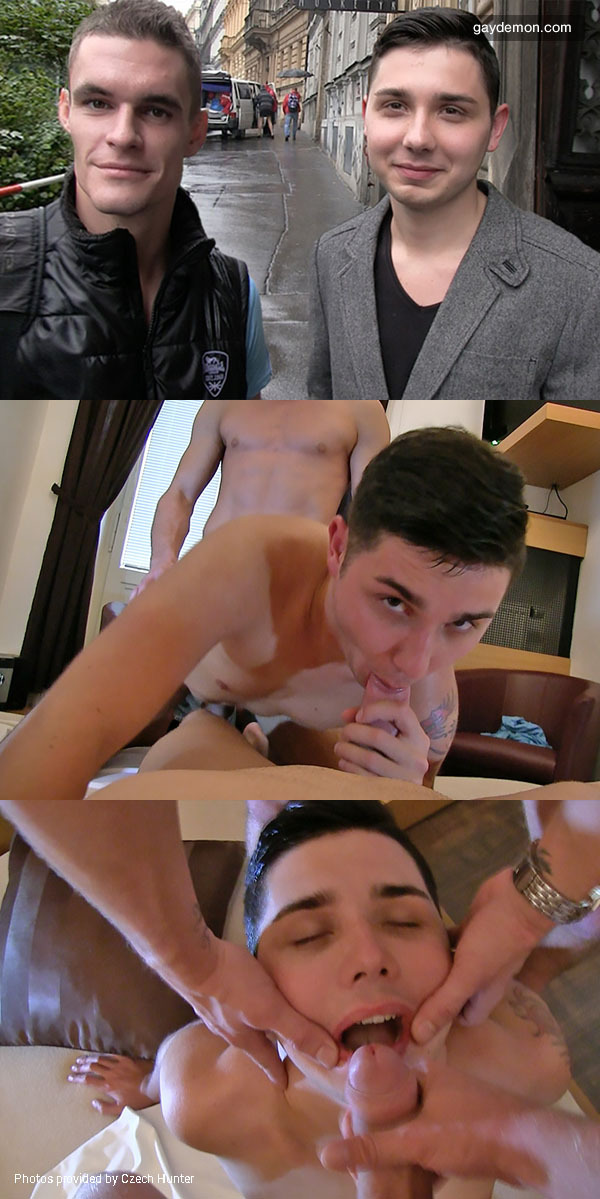 This week the Czech Hunter cameraman has out-done himself! He was at the local train station with his POV camera at the ready and spied a hot young twink walking towards him. He approached the guy and gave him some story about being a film producer and how "photogenic" the young man was and offered to film him in his next movie if he was prepared to do a short audition today.
Well this twink was wise for his age and knew "exactly" what was going on and said he'd be up for whatever - if the money was right - and he could bring his best buddy along - and that they'd both get paid! Well, our cameraman just adores threesomes, and the idea of this hottie and his buddy both going down on his already rock-hard cock was almost too much to handle, and he instantly agreed! So the twink uses his mobile phone and calls his mate and they all agree where to meet up.
Cut to 20 minutes later outside a hotel where rooms can be rented by the hour and the twink's mate is there and up for it too, so they go in and rent a room. Not long later there are two hot twinks playing with each other's hard uncut cocks, and soon one is sucking his buddy who in turn is sucking the cameraman! Then the second twink sits his arsehole down on our cameraman's fat uncut hard-on and sucks on his buddy's cock and all the while is jiggling his tight little butt up and down.
These two twinks may say they are straight, but it seems to me that they sure know how to suck cock, lick arse and fuck butt pretty well - so one wonders if they are more than just "good friends" - not that it matters, we get to watch as they suck and rim and cum on each other, and all the while our cameraman gets to fuck a tight hole before getting his own rocks off by spurting his cum load all over the second twinks cute face!