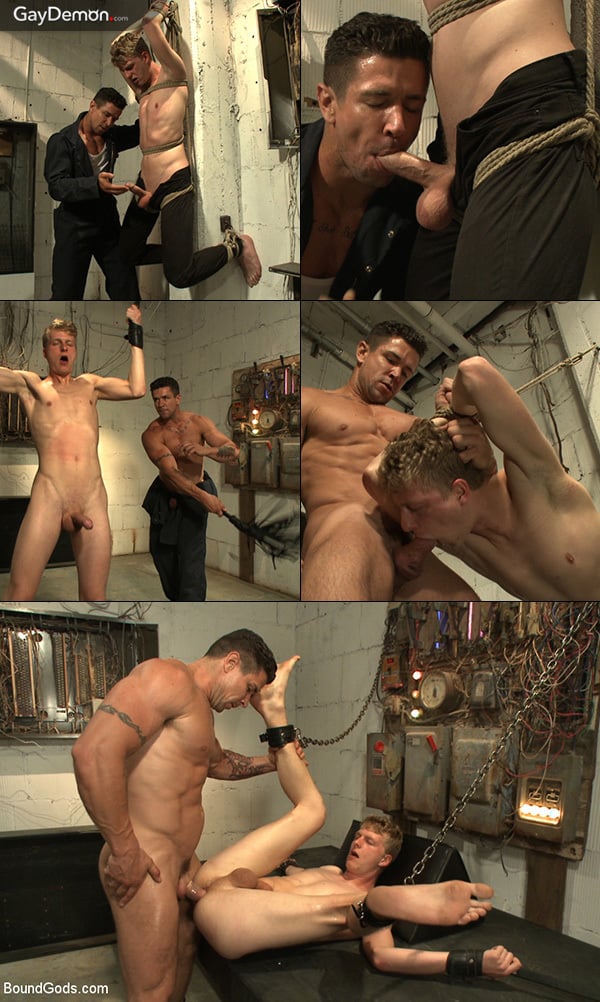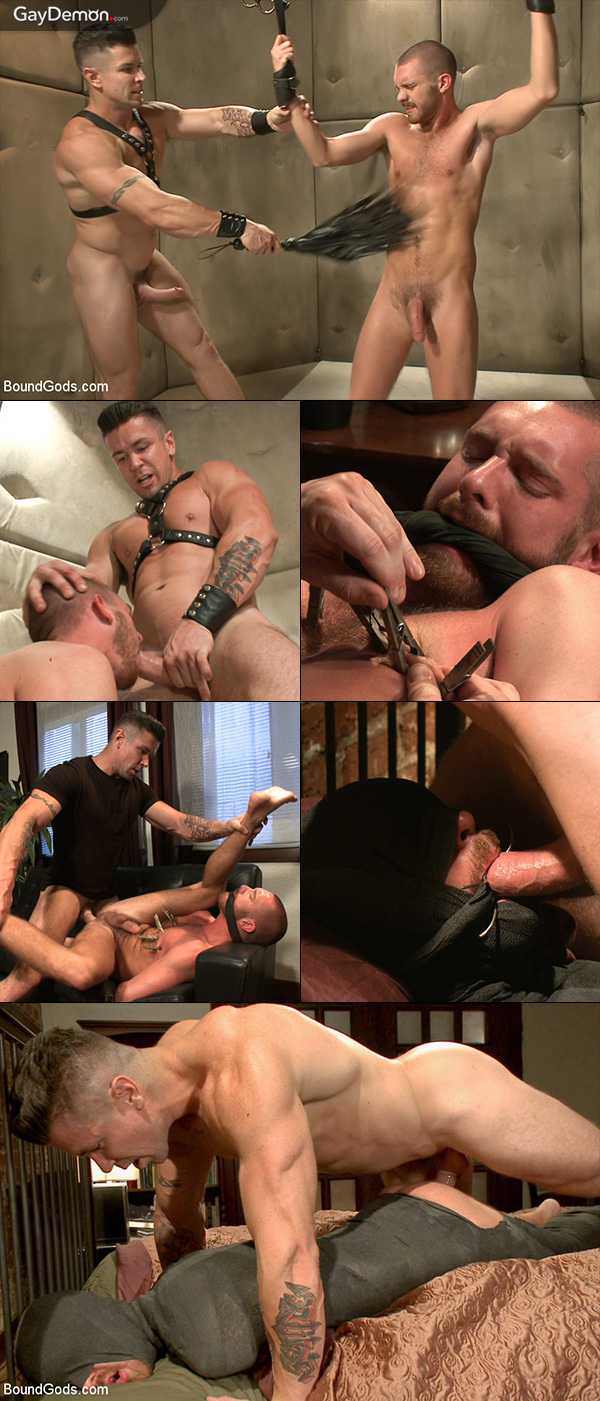 Trenton Ducati is one of the hardest working men in gay porn, he's everywhere. But recently he branched out and tried something he's never really done before -- a BDSM scene. I had my doubts about whether this handsome, clean-cut hunk could play a hard-nosed master, so I decided to make him the subject of this week's Hump Day Hotties and check out his three scenes at Bound Gods.
In his first scene Ducati played a nasty handyman who has blond Branden Forrest locked up his electric room. He strings up the lad and goes to work teasing his cock and getting his sub excited. Stripped naked and arms tied to the rafters, Forrest gets his bare back and ass whipped with Ducati's flogger. The training session continues with some electric toys, a ball crusher, and finally Ducati chains Forrest's legs over his head and fucks his ass. For a first scene, I was pretty impressed with Ducati and I was surprised that he did quite well at pulling off a dom top.
Last week Ducati was back for this third scene. Jordan Foster is a cute bearded guy and when Trenton puts the moves on him, Jordan resists saying, "Sorry, this isn't my scene." Trenton jumps on the lad, restrains him, and decides he's going to make this Jordan's scene whether he wants it or not. And this was my favourite out of Ducati's three scenes with Bound Gods. He's really getting the hang of being a BDSM top, his dirty talk has improved, and there's a lot of variety in this one. Trenton torments Jordan on the couch with clothes pin play and ass fucking, then he drags his sub into a padded room for some bound flogging, and finally, he mummies his sub and force feeds his big cock down Jordan's throat before pounding his hole.
I enjoyed all three of Ducati's BDSM scenes and he shows that he's versatile and capable of going new places. His big cock is always hot to see in action, but watching him getting his three bottoms to service his meat in a variety of nasty ways was exciting. A lot of performers can't pull off being a BDSM top dom, but Ducati shows that he can. And the fact that he's been back to film a total of three scenes means that Bound Gods was happy with him, too.