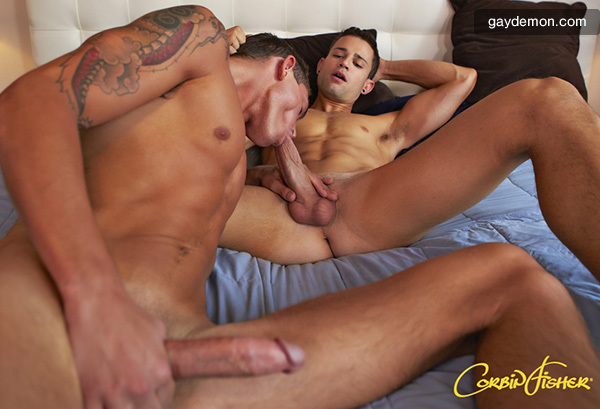 If a top lies back and lets the bottom do all the work, is he still a top? Does a top just have to show up with his hard-on and that's it? In all fairness, this Corbin Fisher video is called "Quinn Rides James," and it's also James' first hardcore scene. I don't know whether James has fucked guys before, but he seems pretty comfortable kissing and sucking them.
Truthfully, James does a lot more than let Quinn bounces on his dick. But when you head over to Corbin Fisher, that's all you're going to see in the preview clip. But it's also pretty horny watching James lying there incredulous as Quinn kisses him, sniffs and licks his armpit, and then sucks his big cock. And James is even more taken aback when Quinn holds his bare foot and sucks his toes.
And when a bottom is in full-service mode, like Quinn is in this scene, can you really fault a guy for lying there and enjoying the experience? No, you can't. But after Quinn has had his fun, James mounts the bottom doggy style and shows him who's boss. Then Quinn is back on top riding and James is fisting Quinn's dick until the bottom finally says, "Fuck! I'm gonna to blow my load."