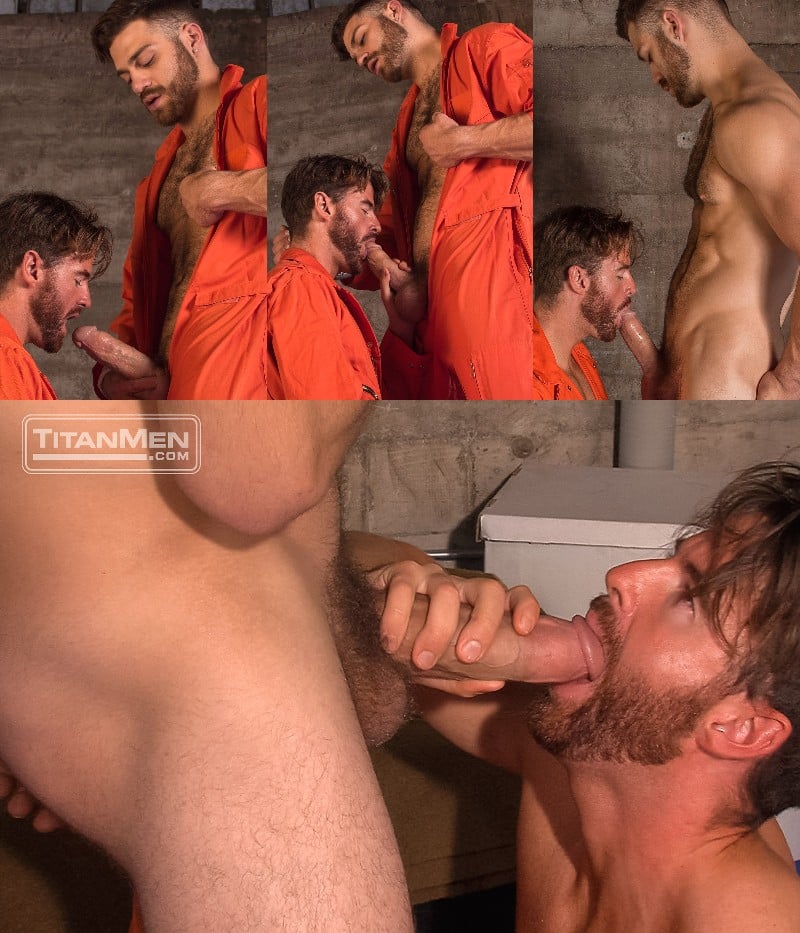 Click here to save 25% on a Titan Men membership
There's been a prison break in Pornland and half a dozen convicts are on the run. Brendan Patrick has found a hideout and decides to hang low for a bit, at least until he can catch his breath and find something else to wear besides his orange jumpsuit. Tommy Defendi stumbles into the same store room and asks Brendan if he can hang out until the coast is clear. You know where this is going, come inside and watch.
In this second scene from Titan Men's Jail Break, Brendan and Tommy introduce themselves and Brendan can't stop staring at Tommy. He finally blurts out, "Sorry man," and rushes towards Tommy, "It's been too long." The two prisoners kiss and unzip their jumpsuits. I giggle when Brendan kneels and starts sucking his new buddy's huge cock because Defendi's classic loud groans would be a dead giveaway for any cops happening by. But Brendan hasn't had sex in a long time and he's not letting Defendi's niner getting away. Who would?
Tommy grabs a fistful of hair and face fucks his buddy; Brendan chokes, but carries on and even spits of this massive piece of meat before gulping as much as he can. Tommy swats Brendan's face with his dong to help stiffen it up. After giving Brendan some head, Tommy bends him over a crate and enters his hole. It's a chore and hurts like hell, but Brendan breathes through it and Tommy drills him hard. Brendan lies back on the crate and rests hit boot on Tommy's shoulder. "I'm gonna fuck the cum right outta you," Tommy bellows. And he sure does.