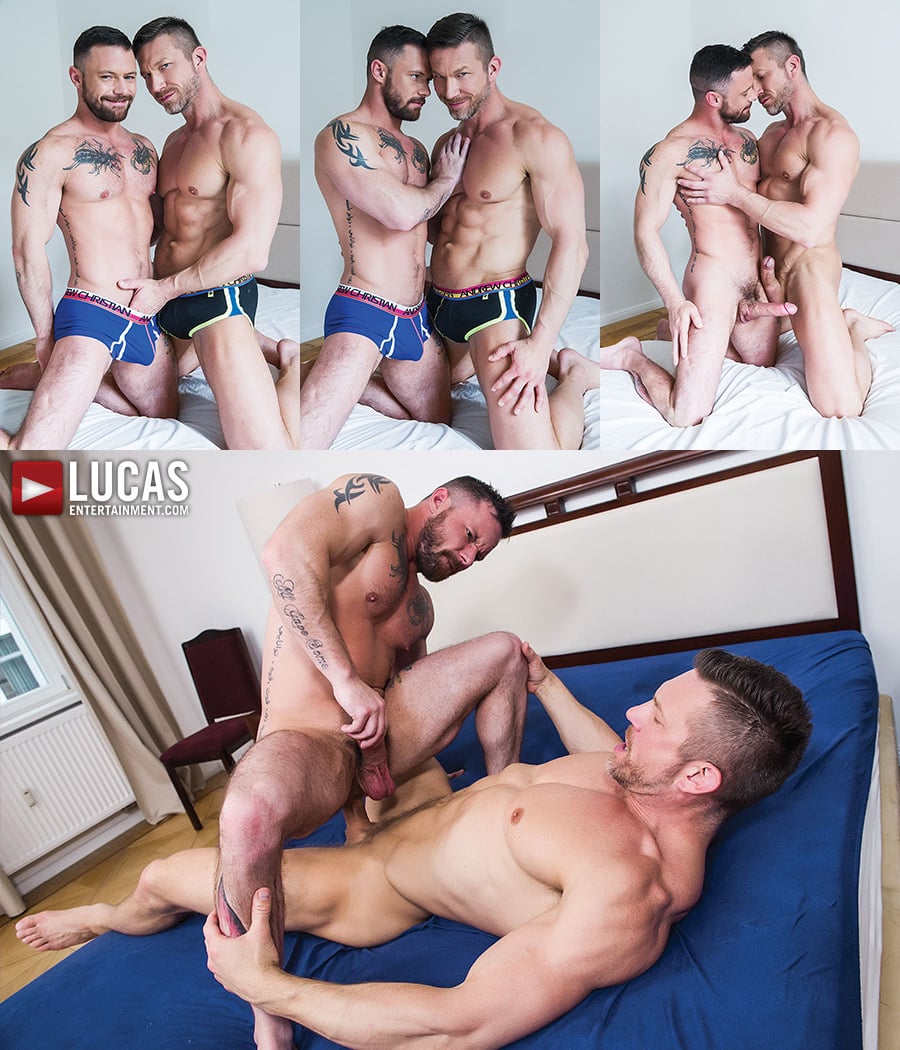 Watching Sergeant Miles giving head is something to see. His latest scene with Lucas Entertainment featuring a steamy session with Tomas Brand that was filmed a few weeks back when the studio took a dozen or so porn hunks to Berlin for a massive shoot. Those sessions have just started coming out. Miles sucks and laps at Tomas' bulbous cock head, getting it glistening with spit, then starts inching down the long shaft. He swallows until Tomas' head is pressed against the back of his throat, then Miles gently swivels his head from side to side. Tomas groans and chuckles just a little, as if it tickles.
I know lots of you are offended by tattoos, I don't happen to mind them. But I do wonder about the Arabic tattoos up and down both sides of Miles' torso and I wonder what they say. (I'm assuming they're Arabic, maybe I'm wrong.) The web is full of stories of Westerners getting Chinese characters on their bodies, beautiful symbols that they thought meant things like peace, serenity, perseverance, or love, but instead they're walking around with noodles, whipped husband, or crazy diarrhea tattooed on their arm. Anyway, does anyone out there know what Sergeant Miles tattoos actually says? I giggle a little when I imagine they actually mean something like "I like toast and jam."
Anyway, I'm just being silly. Tomas Brand and Sergeant Miles are hot for each other and their session is on fire. They roll around on the bed fucking each other, although Miles does spend a lot more time with Tomas' dick in his ass. I actually prefer that because Tomas is a sensuous fucker who likes his bottom to feel every single stroke. His grunts and growls drive me nuts. So does his deep voice. for the finale, Tomas fucks Miles on his back until he cums, then Tomas jacks off with Miles catching as much of cum in mouth as he can, and whatever he missed, he hungrily laps off Tomas' abs.
See more at Lucas Entertainment