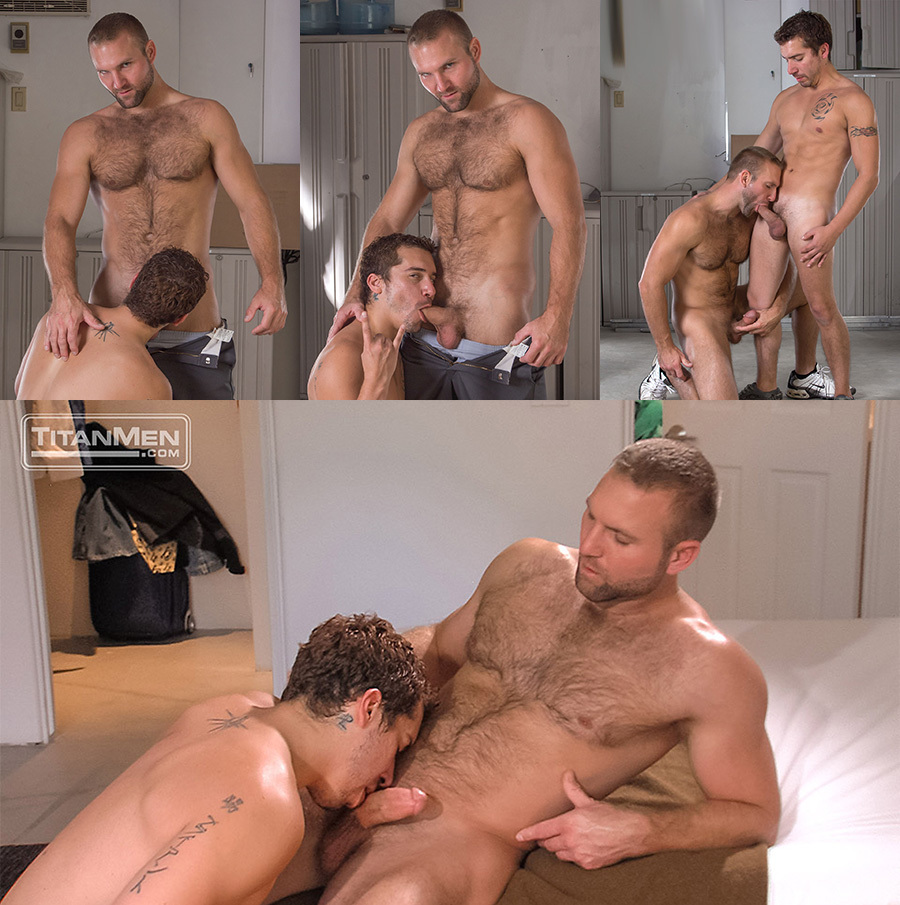 Tom Wolfe offers to teach Layne Nixon how to defend himself, so they square off in a wrestling stance. This is the second scene from Joe Gage's Spur of the Moment over at Titan Men and the wrestling lesson doesn't last very long. Layne wraps his arms around Tom and seems to have the upperhand, but then the bearded hunk makes his move and grapples Layne to the floor. Wolfe pulls off Layne's shorts, then strips out of his own clothes and throat fucks his buddy.
I don't know whether the video editor accidentally trashed some footage from this scene, but it's one odd ball session. It opens with Layne snooping in a walk-in closet and he discovers a jockstrap, which inspires a jack-off session. Layne blows his wad all over the floor and meticulously cleans his cock with the jockstrap, but doesn't bother mopping up his mess on the carpet. Tom Wolfe enters the bedroom just as Layne is leaving the closet, they exchange words about being bored, and Wolfe offers to teach Layne how to defend himself. Who knows why, Layne wasn't in any immediate danger. I probably would have had Wolfe discover his buddy jacking off and let things take off from there.
Tom and Layne circle each other several times before Layne finally moves in, but Wolfe quickly puts him on the floor and pulls out his cock. So I guess what we can learn from this self-defense lesson is that if you ever find yourself in a threatening situation just kneel and open your mouth. It seemed to work well for Layne who not only gets throat fucked, but gets a butt full of Wolfe's dick. After a vigorous fuck session, they both blow their loads on Layne's belly. Not my favourite Joe Gage video, but once the guys get into the sex, it was enjoyable.