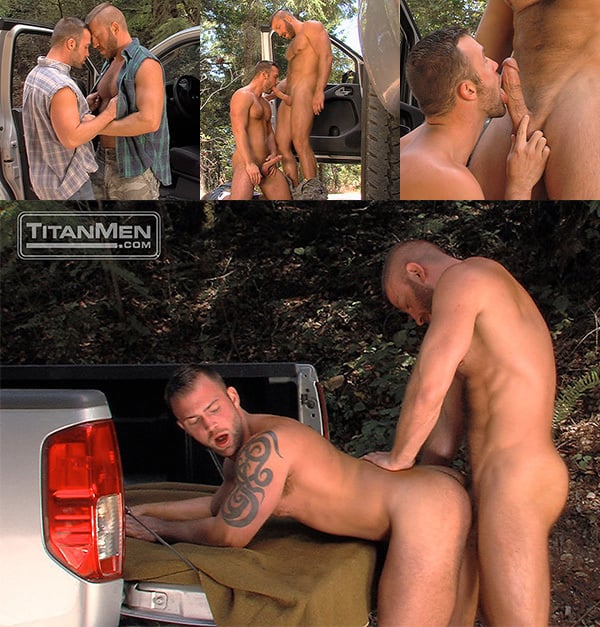 Although there hasn't been an official press release, I'm pretty sure that Titan Men has a brand new exclusive. The appropriately named Nissan Titan made two appearances in "Grease Monkey" with (Eddy Ceetee fucking Nick Capra alongside the vehicle, then in the series finale, Mike DeMarko and Nick Prescott also use the truck as a fucking prop. This week Titan Men released a brand new series called "Pacific Coast" starring hairy hunk Hunter Marx, beefy Trent Davis, and the silver Nissan Titan.
Trent Davis is walking a dirt road that winds through the woods. If you like chunky bums and thick thighs in jeans, you'll want to watch him walking away from the camera. Sexy sight. Hunter Marx drives by and stops: "What you up to?" Hunter asks. Trent says something about enjoying the nice day and Hunter hops out of the Nissan and plants a kiss on the hunky stranger. I love it when a porno doesn't get bogged down in a lot of dialogue.
The men kiss, suck dick, and Hunter eats Trent's meaty butt by the open door of the truck. "I wanna fuck you so bad," Hunter moans. They head to the back of the truck and Hunter bends Trent over the tailgate and fucks him. And with a hot butt like Trent has, it's not surprise that Hunter slams it hard. Eventually Trent lies back in the bed of the truck, and with Hunter drilling him he moans, "Your dick is gonna make me fucking cum." And boy does he ever, all the way up onto his pec.