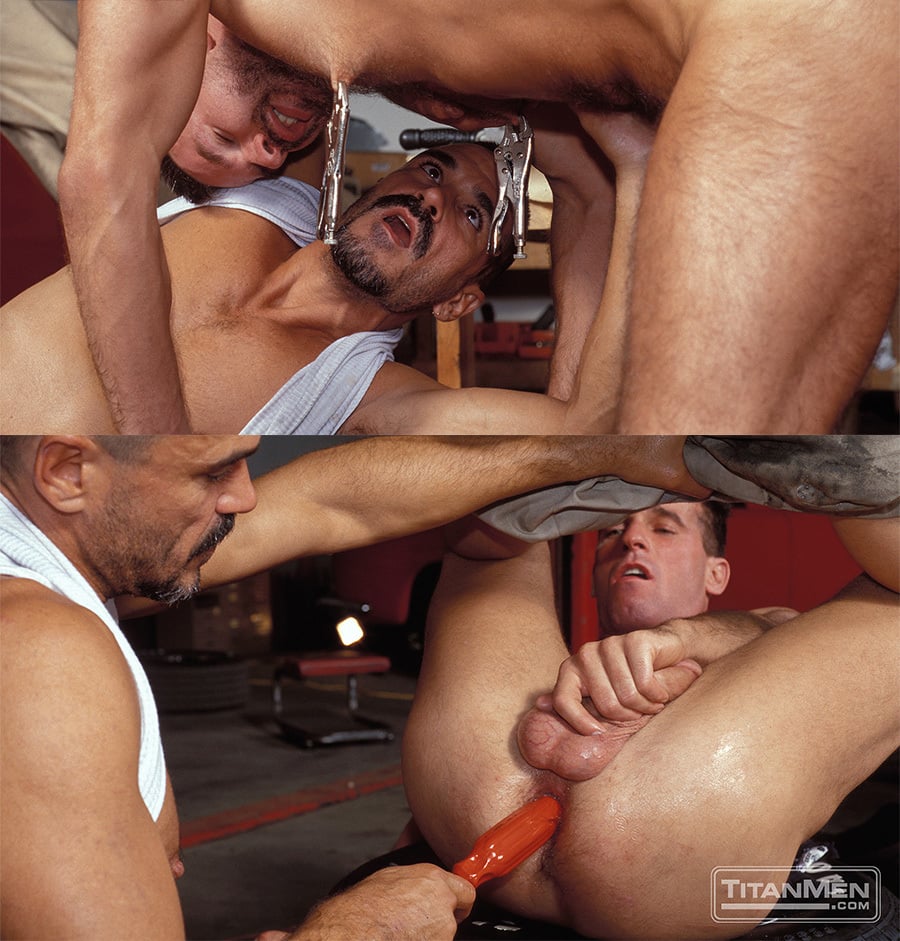 If you have a workshop, or even just a collection of tools sitting in a chest, you may not have considered that you could use your tools for other more carnal purposes. These horny dogs from Titan Men's Jacked Up are showing an array of things men can do when left to their own devices in a well-equipped workshop. Have you ever considered clamping a pair of vice grips on your nipples or hanging a wrench off your nuts. There's all kinds of fun to be had if you use your imagination. And if you're low on inspiration, come inside and let these men give you some fresh ideas.
Titan Men has started bringing back some of these older releases and giving them some fresh exposure on their homepage alongside their new releases. It's not a bad idea, otherwise those oldies but goodies sit at the back of the video library and require some digging to find them. Jacked Up was released in 2000 and features Mitch Ryder, Eddie Moreno, Joe Hix, Steve Carlisle, Bruce Jennings, Jack Simmons, Ross Taylor, and Rolio Vizarro. And along with the sex scenes themselves, Titan Men has been digging up interviews and behind-the-scenes reels too.
For me, the hot finds in Jacked Up are rough-looking Eddie Moreno with his heavily inked body and his bottomless throat (he turned my crank big time) and long-haired Joe Hix, who I completely missed the first time around. And it looks like this is Hix's one and only appearance in Pornland. See what I mean? Had Titan Men not highlighted Jacked Up again, I would never have seen this hot hunk of man feeding his meaty cock to the other grease monkeys in the garage. And it's worth seeing. There's over two hours of sucking and fucking in this dirty garage (in the toilet too) and a four-man gang bang, even a bit of piss play.