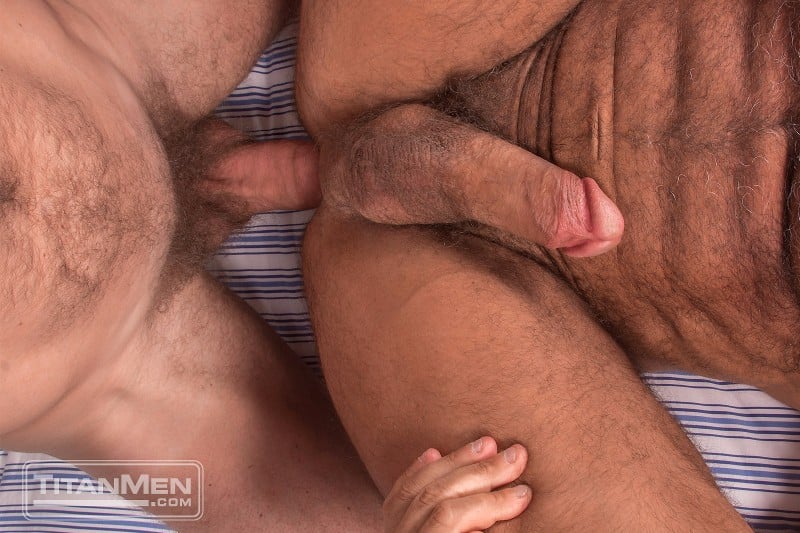 Get 25% Off a Titan Men Membership - Click Here
In the promo pictures from Titan Men's Out, Nick Prescott's bare cock is clearly inside Jesse Jackman's ass. When did Titan Men go bareback? Company vice president Keith Webb has always said that he'd sell the company before going raw. There's been no press release from Titan Men, so what's going on?
Updated: please see full post
The fact is that Titan Men hasn't gone bareback. I have watched the actual Out video inside Titan Men's members area and both Jesse Jackman and Nick Prescott wear condoms while fucking each other. So that means that someone either photoshopped away the condoms in the promo pics or the men posed without condoms for simulated sex shots.
Either way, it's a cheap trick. I contacted Titan Men last week, but they have not replied to my email. But this isn't the first instance of the disappearing condom. Promo pictures from all four scenes from Titan's Cauke for President shows bare cocks in holes, or that's how it's made to look anyway. Which begs the question: What is Titan Men trying to achieve here? I'll let you know if they ever get back to me.
Update from Titan Men: No, we have not gone bareback, and no we did not Photoshop any condoms out of any stills. The images are posed still photographs, not screen captures from actual video. We shoot posed still photos separate from video filming. As there is no actual penetration during the photography session there is no need to use condoms. When we shoot video and there is actual penetration then condoms are used. I know some people think they see penetration, but I can guarantee you there is none.